You are here
2012 Bishop Election Archive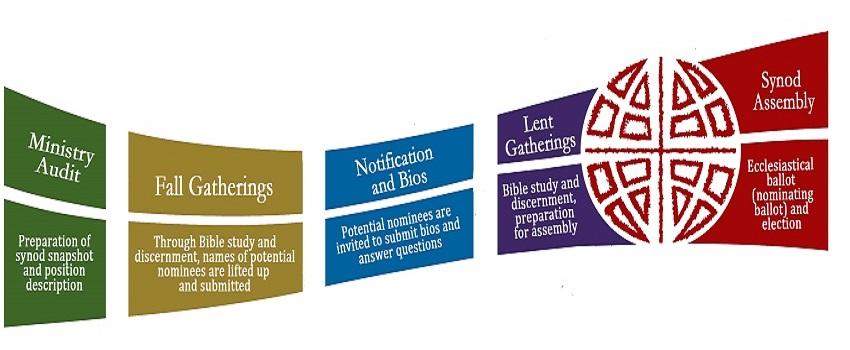 2012 Bishop Election Process
Rocky Mountain Synod
(This information remains on the RMS website as a resouce to other synods who are discerning their own processes. This process is not being duplicated exactly for our 2018 election. This is one model.)
Ministry Audit 
A Bishop Election Task Force prepared documents including a synod snapshot, bishop profile, and Bible Study. The Fall Gatherings included additional "ministry audit" conversations.
Synod Snapshot  (PDF)
Bishop Profile  (PDF)
Ministry Audit Report: A Statistical Overview of the Synod by Kenneth Inskeep (PDF)
Ministry Audit PPT Presentation (PDF)
Ministry Audit Powerpoint Script (Word)
Fall Conference Gatherings
Conference Deans scheduled and organized gatherings to equip lay and rostered leaders for the election process and to lift up names of individuals who embody gifts for the ministry of serving as bishop. Names of potential nominees had a deadline of December 15 to submit names on a web-based form.
Agenda  (PDF)
Bble Study  (PDF)
Video Introduction to Bishop Election Process (link)
Notification and Bios Submitted
Those whose names were submitted as potential nominees were invited to submit their biographical information, as well as responses to questions about their vision for the ministry of the Rocky Mountain Synod. Potential nomineess had from December 15 to January 31 to discern whether or not to complete and submit the information and questions. Even if they did not submit the Biographical Form, they were asked to complete and submit the Response Form.
Letter to Potential Nominees (Word)
Expectations and Significant Dates  (PDF)  
Bishop Potential Nominee Response Form  (Word)
Bishop Potential Nominee Biographical Form  (PDF) 
Lent Conference Gatherings
Conference Deans will schedule spring conference and/or cluster gatherings of pastors and congregational Synod Assembly voting members. These gatherings will be to educate voting members about the discernment and election process, to begin discernment in light of the potential nominee biographical and ministry materials available to them, and to identify initial questions to be presented to nominees at the assembly. Bible study and discernment materials will be provided. 
Spring Gathering Agenda and Information (Word) 
RMS Initial List of Potential Nominees (PDF)
Synod Assembly
Congregations were encouraged to elect Synod Assembly voting members by January 31, 2012, so the voting members may have ample time to participate in the discernment process. At the assembly, which took place April 26-28, 2012, in Colorado Springs, the first ballot was the "Ecclesiastical Ballot" in which each voting member had the opportunity to write down the name of his or her nominee for bishop. This was the official nominating ballot. Names submitted may or may not have been raised up in the earlier process of identifying potential nominees and disseminating biographical information. The bishop was elected after subsequent ballots in which the field of nominees was gradually reduced. 
New Bishop Begins Term and is Installed 
The newly elected bishop of the Rocky Mountain Synod begins serving on August 1, 2012. The Festival Liturgy of Installation will take place on Sunday, September 23, 2012, at 7:00 pm at Bethany Lutheran Church, in south metro Denver. ELCA Presiding Bishop Mark Hanson will be present to install the newly elected bishop. 
Gratitude and Acknowledgement 
Our thanks to those who served on the Bishop Election Team to carefully review the election process and to consider the best scenario for the Rocky Mountain Synod, in conjunction with the RMS constitutional requirements. One key resource has been the ELCA's document, "Choosing a Bishop" which was prepared by the Rev. Janice Erickson-Pearson for the ELCA in 1995 for churchwide use, including the election of subsequent churchwide Presiding Bishops.