You are here
Around the Synod
Events and News - 

Draft Social Statement on Women and Justice 
The ELCA Task Force on Women and Justice: One in Christ invites you to read and evaluate the "Draft of a Social Statement on Women and Justice." To learn more about social statements and how they're created, check out our FAQ. Receiving input... 
---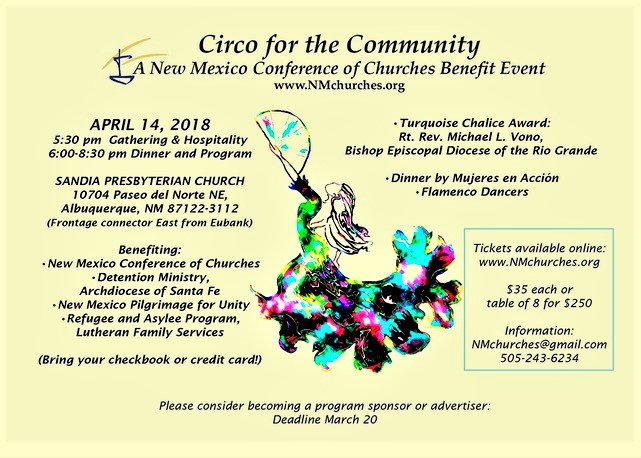 ---
2018 Synod Assembly: For the Life of the World
May 3-5, 2018
Westin Hotel, Westminster, CO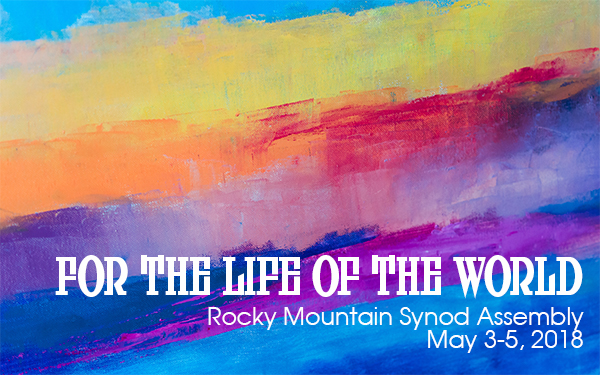 Bishop Election
Biographies for potential bishop candidates are now published on the Bishop Election page.
Identifying candidates in advance of the assembly is in no way binding on the nominating "Ecclesiastical Ballot" on the opening day of the assembly. This process is for informational purposes only. See the website for full election information.
Leaders needed for our life together!
Churchwide Assembly:
WY At Large Clergy
North Colorado Lay Female
Person of Color, Lay
Youth/Young Adult Female
Youth/Young Adult Male
Synod Council:
Ethnic Specific Ministry/English as a 2nd language (Lay or Clergy)
Youth (2 year term)
Mission Outreach
Congregational Ministry Board
Committee on Discipline
Consultation Committee
For your 2018 budget planning --- Voting Member registration is $300. Hotel is $109 per night with an option to add on a breakfast voucher for $12/person
---
Lutheran Family Services Rocky Mountains - Announcements
The refugee program is a charity partner with the Colfax Marathon in 2018! The race will happen Saturday and Sunday, May 19 & 20, 2018. Interested in running or donating in support of other runners to raise awareness of refugees in our city? Join the LFS staff as we #Run4Refugees in the 5k, 10k, half marathon, full marathon, and 5-person marathon relay! For more information or to register visit http://www.runcolfax.org/charity-partners/lutheran-family-services/ or contact Refugee Programs Volunteer & Community Relations Coordinator Kate Strebe at kate.strebe@lfsrm.org or 303-225-0199.
---
This Changes Everything - 2018 ELCA Youth Gathering
June 27 through July 1, 2018
Volunteers Needed:
Would you like to volunteer at the Gathering and help our young people grow in faith and encounter Christ? Serving the youth of this church is a vocational calling that requires careful discernment. Every volunteer must agree to follow the terms of a volunteer code of conduct and submit to a background check by the ELCA. There are four volunteer categories: Local Volunteers, Community Life, Gathering Volunteer Corps, and Servant Companions. The responsibilities vary, and all volunteers (except Local Volunteers) must commit to being in Houston for one week. Volunteers arrive on Monday, June 25, and depart Sunday, July 1, 2018. More information and online application
All ELCA congregations are eligible to register for the Gathering. Youth eligible to attend the Gathering are in 8th-12th grade at the time of registration. Adult leaders planning on attending the Gathering must be at least 21. Congregations should select one adult to be the primary adult leader, the one who coordinates registration, payments, transportation and rooming lists for the group. Registration opens Sept. 15, 2017, and closes May 15, 2018. The registration portal is live and online from Sept. 15 through the end of the Gathering.  Registration worksheets are available (here) and with much more information on the resources page. 
The Youth Gathering's Getting Ready Resources have been created for your use by a group of dedicated youth ministers who, like you, are committed to making the experience of the Gathering fulfilling and Christ-centered. The resource is a youth ministry curriculum ramping up for the 2018 ELCA Youth Gathering. 
Are you looking for more information about the 2018 ELCA Youth Gathering? Here is the Synod Hospitality Package and information about the Sky Ranch Bus Trip.  If you have questions, or need even more information, please contact Beth Rogers, Gathering Synod Coordinator or call her at 303- 842-6549.
Financial assistance available for ELCA Youth Gathering:
The ELCA Youth Gathering wants everyone to have an opportunity to attend. The Gathering offers financial assistance to youth participants based on the financial needs of an individual and their family. Assistance will be offered to applicants on a rolling basis, and adult leaders are encouraged to apply early. Leaders will begin receiving email notifications of financial assistance offers on Aug. 15. Applications for 2018 are open and are available here.
---
Executive Skills for Pastors Events
California Lutheran University is offering a week of continuing education with faculty from the School of Management. In the complex environment of congregational management, we all can use new tools for ministry. This continuing education event for pastors will explore how concepts from a MBA program can be applied to the arena of congregational life. Each day, we will explore a different theme.
This event is hosted in two different locations at two different times of the year. 
July 16-20, 2018 at  the Cal Lutheran Campus in Thousand Oaks, CA. Details here, and below.
Level 1 and Level 2 run at the same time. This is due to our desire to create synergies between the participants as they join together in housing, meals and breaks while participating in different classes. Level 1 is the prerequisite to Level 2. 
(Class content is subject to change.)
Level One: Finance; Marketing; Leadership; Information Technology; Entrepreneurship; Strategic Questions
Level Two: The Customer Experience; Organizational Development; Advanced Leadership Skills; Vision and Mission.
This dynamic continuing education event is limited to 20 registrants for each level. Participants will be invited to bring a particular project or issue that they will focus on during the week. Through lectures, group work, and one-on-one learning participants will gain valuable and needed skills for their work as pastors in congregational settings. The participants will live, learn, worship, and work together throughout the week.
Cost (subject to slight change): $799.00 (includes classes, materials, room and board)
Cost Commuter fee: $625.00 (includes classes, materials, snacks and lunches) Will include dinner if evening sessions are scheduled.
Time: The event will begin on Monday and concludes at noon on Friday.
Travel: For those who are traveling, housing may be arranged for the nights of Sunday, and Friday. Cost is $20 per night and can be reserved through registration. 
---
Essential Skills for Youth Workers
August 2-4, 2018
California Lutheran University, Thousand Oaks, CA
Essential Skills for Youth Workers
Volunteer? Full time? Part Time? Paid? We've got a personal and professional development program for you or your youth workers! 
Connect more deeply to your own context or ministry setting
Go home with resources and plans
Find space for renewal and rest. Build relationships and a network
The format of the event will include three rounds of:
TED-style talks on various aspects of work with children, youth and families
Round table discussions with the speakers
Small groups of participants to "translate" content from speakers to your context
Workshop time/space to draft and/or collect resources to use back your context
Information and registration here , flyer here . Cost: $250 (includes program, meals and housing)
Commuter fee: $200 (includes program and meals)
There is a $50 non-refundable deposit included in your registration fee. If you need to cancel before July 15, $200 will be returned to you. After July 15, your $250 registration fee is non-refundable.
---
2018 Israel Trip with Instructor, Dr. Monte Luker, (O.T. Prof. at Lutheran Theological Southern Seminary) and Group Leader Pastor Dave Pederson, Bethel Lutheran, Windsor, CO
September 28 through October 11, 2018
You will deepen your understanding and perspective of the Bible by actually being where it all happened. Visit Bethlehem, the Shepherds field, Church of the Nativity, Armageddon, Sepphoris, the Sea of Galilee, Bethsaida, Capernaum, the traditional site of the feeding of the 5,000, the Mount of Transfiguration, 1st century Nazareth village, Jordan, Nebo where Moses overlooked Jericho, Petra, Eilat, Timnah, 2 nights in a Kibbutz at En Gedi, Dead Sea, cave David hid in away from Saul, Mt. of Olives, Garden of Gethsemane, Jesus' birth place and more. Plus we will tour a Jewish settlement and talk to a Jewish leader and tour a Palestinian school and talk with Archbishop Elias Chacour its founder.
Cost is $4,398 and includes flight from Denver, hotels, bus, breakfast and dinner. Lunch on your own. For questions, contact Pastor David Pederson ( email ) or call 503-999-1443.
---
Register Your Group for a Bridging Borders trip with RTLC
​Summer 2018


If you're looking for a service opportunity for your youth or adult groups in your congregation, register for a Bridging Borders trip today! Bridging Borders provides domestic and abroad service trips throughout the summer months, as well as other times throughout the year for your congregational groups to serve a community other than your own in a week of service. These weeks are all about sharing God's love, and building relationships with each other and with those whom we serve. In 2018, Bridging Borders will be serving in Ecuador, Mexico, the Dominican Republic, and doing hurricane relief in Texas. For more information, go to rainbowtrail.org, or email ben.jarvis@rainbowtrail.org!
---
New Online/Text/Automated Giving Platform
The ELCA is launching a partnership with Tithe.ly --- the online giving platform we use in the RMS. This new partnership means a reduced processing fee, and some additional custom features- as well as LOTS of support, which is great if you haven't engaged online giving yet! Tithe.ly & our Churchwide office are looking for 10-15 ministries from the RMS to help pilot this- contact Deacon Erin Power if you would be interested!
Church Giving: Mobile App, Online & Text Giving for... 
Looking to accept online donations for church? Tithe.ly is a free church giving app for all your mobile giving & online giving needs. ✓ Click to try today! 
Read more 
get.tithe.ly 
---
Subscribe to ELCA Newsletters
You can subscribe to many ELCA newsletters in one place. Keep up-to-date with the ministries that mean the most to you, or share with a friend and encourage them to subscribe. Sign up for news about the global church, Lutheran Disaster Response, stewardship and ELCA World Hunger.
---
Space Available at Highlands Lutheran!
Highlands Lutheran
3995 Irving St
Denver, CO 80211
We are currently seeking suitable non-profit or small congregation renters for TWO SMALLER OFFICE SPACES and ONE LARGER ROOM. The larger room has been used as a chapel space in the past. 
Anyone interested in a tour, or more information should contact the Highlands Lutheran Church property management volunteer, Ellen Lorts at lortse@comcast.net, or our church office (which is staffed part-time) at office@highlandslutheran.comcastbiz.net.
Please share this listing with other groups who may be interested in making 3995 Irving Street their home too. Thanks!