You are here
Around the Synod
Events and News - 
---
Is Student Loan Debt Weighing You Down?
Do you have federal student loan debt that is distracting you from ministry? One of the advocates with Educate, Equip, Enact, has expertise in the area of federal student loans, and has been instrumental in guiding colleagues to reduced payments. If you would like help looking at your student loans, contact Janice Kibler at jkibler@rmselca.org, and you will be directed to the expertise you need. 
---
Godly Play Core Training in Denver this Fall
Saturday, December 2, 8:30-5:30 p.m.
St. John's Episcopal Cathedral is excited to be hosting aGodly Play Core training for certification this Fall! This is the only Godly Play Core Training currently scheduled for Colorado and surrounding states!
Godly Play is Montessori based model of Sunday School that helps children explore their faith through story while valuing process, openness, discovery, community, relationships, creativity, and imagination. Click here for more information about training content.
Each session will be held at St. John's Cathedral ( 1350 N Washington St Denver, CO). The cost is $155 a session, but please reach out to the Godly Play Foundation about scholarship information if needed. Lunch and snacks will be provided by St. John's.
Sign up quickly because there are only 14 spaces! Registration for all three sessions can be found here: Sacred Stories, Parables, and Liturgical Action. 
---
Executive Skills for Pastors Events
California Lutheran University is offering a week of continuing education with faculty from the School of Management. In the complex environment of congregational management, we all can use new tools for ministry. This continuing education event for pastors will explore how concepts from a MBA program can be applied to the arena of congregational life. Each day, we will explore a different theme.
This event is hosted in two different locations at two different times of the year. 
January 8-12, 2018 at Spirit in the Desert Retreat Center, Carefree, AZ. Details (information, pricing, and registration) available here.
July 16-20, 2018 at  the Cal Lutheran Campus in Thousand Oaks, CA. Details here, and below.
Level 1 and Level 2 run at the same time. This is due to our desire to create synergies between the participants as they join together in housing, meals and breaks while participating in different classes. Level 1 is the prerequisite to Level 2. 
(Class content is subject to change.)
Level One: Finance; Marketing; Leadership; Information Technology; Entrepreneurship; Strategic Questions
Level Two: The Customer Experience; Organizational Development; Advanced Leadership Skills; Vision and Mission.
This dynamic continuing education event is limited to 20 registrants for each level. Participants will be invited to bring a particular project or issue that they will focus on during the week. Through lectures, group work, and one-on-one learning participants will gain valuable and needed skills for their work as pastors in congregational settings. The participants will live, learn, worship, and work together throughout the week.
Cost (subject to slight change): $799.00 (includes classes, materials, room and board)
Cost Commuter fee: $625.00 (includes classes, materials, snacks and lunches) Will include dinner if evening sessions are scheduled.
Time: The event will begin on Monday and concludes at noon on Friday.
Travel: For those who are traveling, housing may be arranged for the nights of Sunday, and Friday. Cost is $20 per night and can be reserved through registration.
---
Deacon Epiphany Gathering for Region 2
"Shining Your Light, Telling Your Story"
Region 2 Deacon's Gathering
Gathering Location: Rocky Mountain Synod Office of the Bishop, Denver, CO
Gathering Hotel: Hampton Inn Denver-Northwest, Westminster, CO
Speaker: Carol Jacobson, Ph.D., Associate Professor of Practical Theology
Diaconal Ministry Program Director, Pacific Lutheran Theological Seminary
All deacons presently serving in a congregation or specialized ministry, waiting to serve, retired, on leave or discerning a call to ministry, are invited to attend. More information about this event and the link to register, can be found on the event webpage.
---
Journey Into Faith: Welcoming New Members and Renewing Your Faith Community
Friday, January 19, 6:00 p.m. to Sunday, January 21, 12:00 noon
How do you welcome seekers to your congregation and encourage long-time members in their journey of faithful discipleship?   In the early Church, disciples of Jesus were formed in the Christian Way through an intensive apprenticeship in faith. Through scripture study, common worship and acts of charity and mercy, inquirers where introduced into a way of living that demonstrated the marks of a Christian.
Today, many of the people who come to our churches have little or no idea of what it means to live as a Christian. This weekend will introduce you to a process of incorporating new people into your parish while also renewing those who help to guide them, a process that helps people to give meaning to their own lives and form authentic community with others.
Who should attend? Clergy and 3 or more members of the congregation.
Where : Christ the King Episcopal Church, 6490 Carr Street, Arvada, CO
This event is sponsored by the Front Range Region of the Episcopal Diocese of Colorado, the Rocky Mountain Synod and Journey to Baptismal Living . More details and registration are available at Journey Into Faith.
---
2018 Synod Assembly: For the Life of the World
May 3-5, 2018
Westin Hotel, Westminster, CO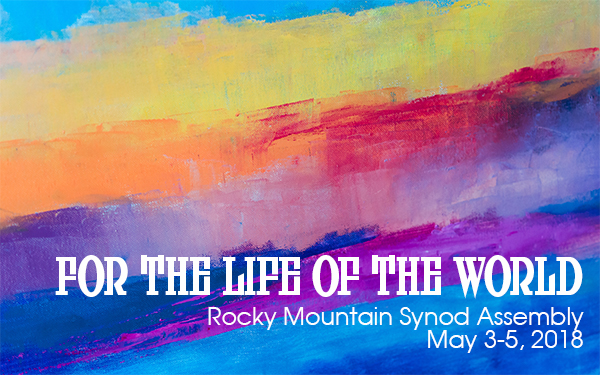 Information regarding the Bishop Election Process in now online.
Conferences are invited to gather for conversation and discernment regarding this and other elections that will take place.
For your 2018 budget planning --- Voting Member registration is $300. Hotel is $109 per night with an option to add on a breakfast voucher for $12/person
---
This Changes Everything - 2018 ELCA Youth Gathering
June 27 through July 1, 2018
Volunteers Needed:
Would you like to volunteer at the Gathering and help our young people grow in faith and encounter Christ? Serving the youth of this church is a vocational calling that requires careful discernment. Every volunteer must agree to follow the terms of a volunteer code of conduct and submit to a background check by the ELCA. There are four volunteer categories: Local Volunteers, Community Life, Gathering Volunteer Corps, and Servant Companions. The responsibilities vary, and all volunteers (except Local Volunteers) must commit to being in Houston for one week. Volunteers arrive on Monday, June 25, and depart Sunday, July 1, 2018. More information and online application
All ELCA congregations are eligible to register for the Gathering. Youth eligible to attend the Gathering are in 8th-12th grade at the time of registration. Adult leaders planning on attending the Gathering must be at least 21. Congregations should select one adult to be the primary adult leader, the one who coordinates registration, payments, transportation and rooming lists for the group. Registration opens Sept. 15, 2017, and closes May 15, 2018. The registration portal is live and online from Sept. 15 through the end of the Gathering.  Registration worksheets are available (here) and with much more information on the resources page. 
The Youth Gathering's Getting Ready Resources have been created for your use by a group of dedicated youth ministers who, like you, are committed to making the experience of the Gathering fulfilling and Christ-centered. The resource is a youth ministry curriculum ramping up for the 2018 ELCA Youth Gathering. 
Are you looking for more information about the 2018 ELCA Youth Gathering? Here is the Synod Hospitality Package and information about the Sky Ranch Bus Trip.  If you have questions, or need even more information, please contact Beth Rogers, Gathering Synod Coordinator or call her at 303- 842-6549.
Financial assistance available for ELCA Youth Gathering:
The ELCA Youth Gathering wants everyone to have an opportunity to attend. The Gathering offers financial assistance to youth participants based on the financial needs of an individual and their family. Assistance will be offered to applicants on a rolling basis, and adult leaders are encouraged to apply early. Leaders will begin receiving email notifications of financial assistance offers on Aug. 15. Applications for 2018 are open and are available here.
---
Register Your Group for a Bridging Borders trip with RTLC
​Summer 2018


If you're looking for a service opportunity for your youth or adult groups in your congregation, register for a Bridging Borders trip today! Bridging Borders provides domestic and abroad service trips throughout the summer months, as well as other times throughout the year for your congregational groups to serve a community other than your own in a week of service. These weeks are all about sharing God's love, and building relationships with each other and with those whom we serve. In 2018, Bridging Borders will be serving in Ecuador, Mexico, the Dominican Republic, and doing hurricane relief in Texas. For more information, go to rainbowtrail.org, or email ben.jarvis@rainbowtrail.org!
---
New Online/Text/Automated Giving Platform
The ELCA is launching a partnership with Tithe.ly --- the online giving platform we use in the RMS. This new partnership means a reduced processing fee, and some additional custom features- as well as LOTS of support, which is great if you haven't engaged online giving yet! Tithe.ly & our Churchwide office are looking for 10-15 ministries from the RMS to help pilot this- contact Deacon Erin Power if you would be interested!
Church Giving: Mobile App, Online & Text Giving for... 
Looking to accept online donations for church? Tithe.ly is a free church giving app for all your mobile giving & online giving needs. ✓ Click to try today! 
Read more 
get.tithe.ly 
---
Subscribe to ELCA Newsletters
You can subscribe to many ELCA newsletters in one place. Keep up-to-date with the ministries that mean the most to you, or share with a friend and encourage them to subscribe. Sign up for news about the global church, Lutheran Disaster Response, stewardship and ELCA World Hunger.
---
Seeking RMS World Hunger Ambassadors!
Passionate about ELCA World Hunger?
We need you!
Through a partnership with ELCA Hunger, the RMS Hunger Network is launching the Hunger Ambassadors Network. Hunger Ambassadors will provide leadership and support for Congregation Hunger Leaders and share about World Hunger across their conferences. One day training will take place in early November.
Contact Hunger Team leader Contact Barbara Ripperger at 719-248-9615 or bripperger2@gmail.com  for more information.