You are here
Border Servant Corps
UPDATE - February 2019
These three former Border Servant Corps volunteers have continued to work in the border region and have received 21 donations in the past 6 months totaling $8,058.51 from individuals and congregations (primarily RMS). Many thanks to these and the many other former volunteers!
---
Maura Rasmusson
Kelly Memorial Food Pantry Fresh Start Intern
El Paso, TX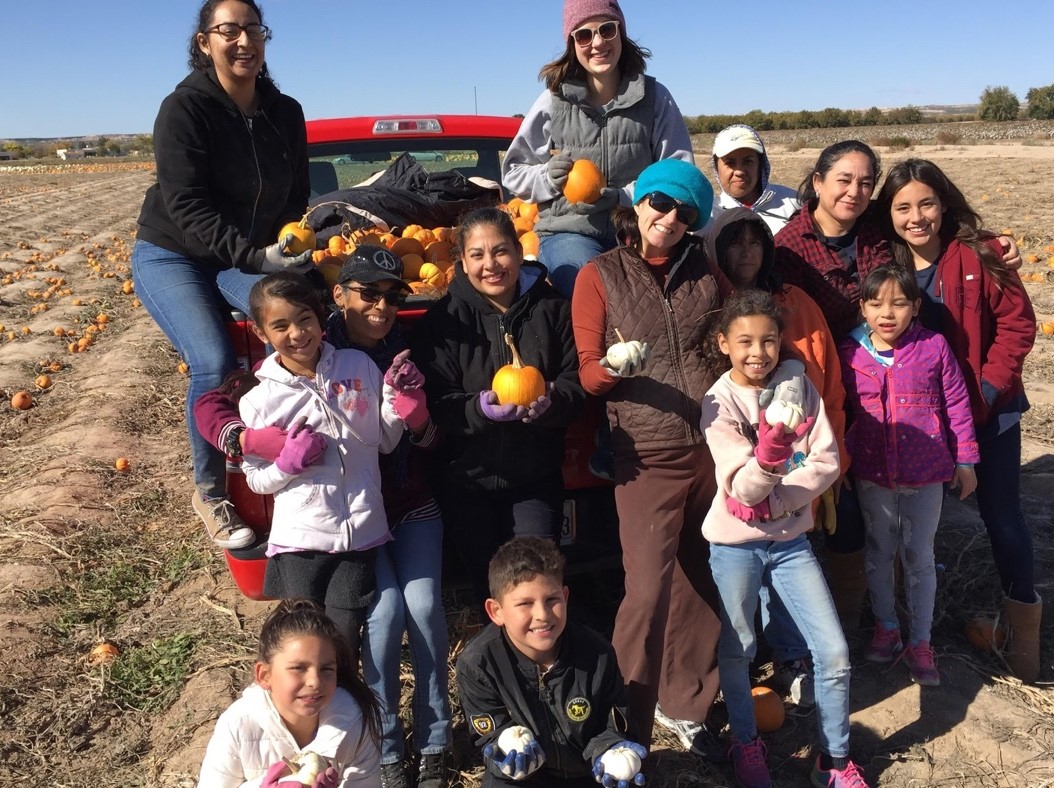 At Kelly Memorial Food Pantry, I've been working closely with the Fresh Start program. This is a nine-month long program in which members undergo counseling with a case worker in order to work towards three goals. Typically these goals are related to health, education, housing, citizenship status, and careers. During these nine months, the staff at Fresh Start provide nutritious food on a bi-monthly basis, as well as healthy resources, recipes, and exercise classes, all at no cost. We have a holistic approach towards aiding our members in order to promote self-sufficiency so that they will no longer need to rely on sources such as food pantries.
I assist the director and coordinator of the program with day-to-day operational tasks. In addition to helping with behind-the-scenes tasks such as unloading deliveries and restocking our shelves and refrigerators, I've also been able to bring in new ideas to the program. I've helped create new marketing materials for Fresh Start, especially for their social media, as well as promoted fundraising efforts, organized a health fair this month with 27 local organizations from the El Paso community, tabled in multiple outreach events, and assisted with the program's graduations. Usually once a week I also volunteer at Jardin de Milagros in Anthony, NM which provides bounties of beautiful produce at no-cost to Kelly Memorial Food Pantry and Fresh Start.
In El Paso, I've been able to learn about food insecurity issues in a hands-on manner. What I love about Fresh Start is that it addresses all of the underlying factors that cause food insecurity. I've been able to meet incredibly caring people and I've been reminded of the strength of human connection and community here in El Paso!
Haley Plucheck
Beloved Community Intern
Las Cruces, NM
I am currently working with the Beloved Community--a non-profit that strives to build community for young adults with intellectual and developmental disabilities. I serve as the inclusive community organizer, and in my role I seek out events happening within Las Cruces that allow us to share our gifts and grow together with other members of the community through relationships and experiences. Beloved serves young adults, many of whom are on the Developmental Disability waiver, by discovering experiences that get us involved in the community through the arts, volunteering, civic engagement, and, sometimes, showing up in the "wrong place" at the right time. The work Beloved does together is all about authentic community, exploring the gifts and interests of each individual, and how we can learn and grow together. 
Ricardo Centeno
Iglesia Luterana Cristo Rey Intern
El Paso, TX
I have been working at the Iglesia Luterana Cristo Rey Church for the last 6 months. I have wanted to have this experience with this church ever since my first visit to the area. Through my university, I visited Cristo Rey and experienced my first border immersion and it was an eye opening experience. I witnessed what the power of community could do for people in need and I wanted to be a part of it.
After 6 months, I can say that there is no other place I would rather be than here at Cristo Rey. A day here never seems like a traditional day of work because my job can be divided into three different parts. The first of which is my main role at Cristo Rey where I am the Coordinator of the Afterschool Program for kids K through 5. The second part of my job is to help the church provide hospitality to Latin American Refugees who are seeking asylum in the United States. The last part of my job is to work in an assistant role to Pastor Rose Mary and help her coordinate the Border Immersion Program here at Cristo Rey. We get high school, college and church groups from all across the nation to visit the border for anywhere from 4-7 days.
It is a surreal feeling being on the other side of the border immersion program as a host and a guide. But the moments I am having with these groups are so unique, engaging and fulfilling. I get a chance to have a dialogue with different groups about borders, politics and immigration issues. When Border Immersions aren't going on, I'm usually planning activities for the children of the afterschool program. This is the first time I have ever worked with kids and I now have a new found appreciation for those who make it their careers to work with children. During the program I play games with the children and I help them with their homework. I live for the "breakthrough" moments during homework time and whenever I can get them passionate for reading.
Cristo Rey also receives refugees through Annunciation House whenever they are able and I help in any capacity that I can. We get volunteers to come out and cook meals for them during their stay. I usually help with either serving the food or the clean up but I always stay and sit down for dinner. It's always nice playing with children of these families and getting to know the stories of their journeys. I feel like I've learn so much about the resilience of Latin American people and how their faith plays a role in their life. It's all very powerful stuff and I am so blessed to have this opportunity to do this type of work.