You are here
Better Together Weblog: RMS stories and news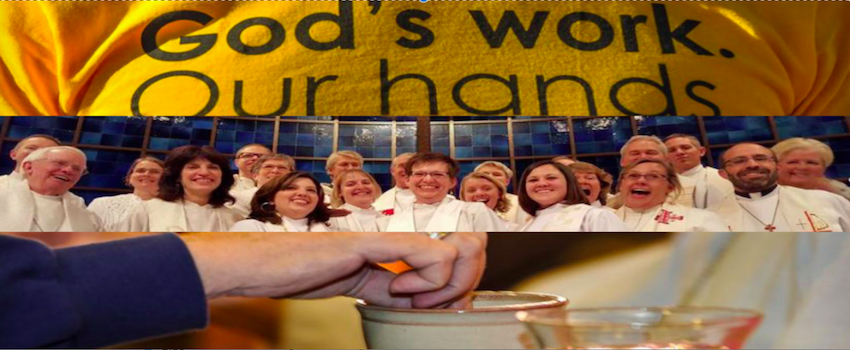 BTW:  Better Together Weblog 
Bishop Eaton:  Statement in observance of MLK Day
Mount Tabor, Salt Lake City Celebrates Burning of the Mortgage
Imagine – a family of 4, a salary of $50.00 per week, walking more than a mile to carry fresh water home, one hospital for 3+ million people. This sounds like a far-off place in Africa or Syria. In reality it is less 650 miles from Denver in Juarez, Mexico.
I recently participated in a Region 2 Global Mission Event in El Paso, Texas. Region 2 in the ELCA is the three synods of California, the Grand Canyon Synod, and our own Rocky Mountain Synod.  Groups from each of these synods met at Iglesia Luterana Cristo Rey where Pr. Rose Mary Sanchez Guzman was our host and guide into the world of immigrants from Mexico and Central America. Do you know that there are 92 verses in the Bible that talk about "welcoming the stranger"?
We learned about the deplorable health care system in Juarez where 3+ million people must depend on one government hospital. Dr. Juana Mendoza has run a health clinic in the community of Anapra. Here she often sees young pregnant mothers in distress. They need a C-section and because of no prenatal care they wait too long for help and often lose their baby. Even sadder is that fact than many of them must also undergo a hysterectomy because of this lack of care.
The talk with the Border Patrol Agents was very enlightening. These men felt they were being compassionate to people trying to cross the Border but at the same time likened themselves to a para-military organization. When people are apprehended they often spend a week to 10 days detained in a cell with no facilities. If they have no criminal record and have family in the US they are allowed to travel to their family.  One of the first stops for many of them is Annunciation House. Volunteers there, help them contact their family, provide them with food for the journey, clean clothes, and bus fare.
I must tell you that it is heartbreaking to look from Juarez to El Paso through a formidable metal fence. We saw roads that were almost impassable running with raw sewage and homes made from wooden shipping pallets. We talked with mothers and fathers who were terrified that their young men would be drawn into the drug gangs and if they refused would be killed. They were afraid to let their teenage daughters outside for fear they would be raped by these same gangs. I don't believe that anyone would send their children to walk or beg rides all the way from Central America unless they couldn't see another way to keep those children alive.  I no longer wonder why so many flee the dangers of gangs, illness, and poverty. I just know that I am reminded to welcome the stranger and in doing so I serve Him.                                                                                                          
  Earline Bohling  Vice President
 Rocky Mountain Synod ELCA
The Rev. Elizabeth A. Eaton, presiding bishop of the Evangelical Lutheran Church in America (ELCA), has issued the following pastoral message in observance of Martin Luther King Jr. Day.
January 2017
"Which of these three, do you think, was a neighbor to the man who fell into the hands of the robbers?" He said, "The one who showed him mercy." Jesus said to him, "Go and do likewise."
(Luke 10:36-37)
On Monday, Jan. 16, our nation will be observing Martin Luther King Jr. Day. Dr. King's work called us, all of us, to remember our neighbor. As a civil rights leader, he spoke about a vision of a beloved community and preached a message of love. In his last speech, Dr. King said, "Let us develop a kind of dangerous unselfishness" and then spoke of the parable of the good Samaritan. The key of the parable is the man's answer: Being a neighbor is about how you act when a person is in need. As children of God, we are all deserving of respect and dignity.
According to Pew Research, in the ELCA more than 90 percent of the congregations are involved in some type of food ministry whether it's a soup kitchen, food pantry, community garden or other similar ministry. Through ELCA World Hunger, our congregations accompany communities toward a world of justice where all will be fed. We care for our neighbor in need, and Martin Luther King Jr. Day is another opportunity for us to be the church for one another.
We are called to be a church that embraces each person and confronts racial, ethnic, cultural, religious, age, gender, familial, sexual orientation, physical and economic barriers that can manifest themselves in unjust treatment, inequalities, exclusion and violence. Do we always get it right? No, we don't. As a denomination that must do better at being a neighbor – we have work to do.
Dr. King once said, "There comes a time when silence is betrayal." When we hear and witness actions that intimidate, degrade, make fun of or cause harm and choose not to speak up, we are equally complicit in the action. Whether it is on a school playground, a water cooler conversation, in the halls of Congress or in a congregation, we are called to be the Samaritan. We are to show mercy and break our silence of all forms of violence including those that stereotype groups, demean people and discriminate.
Next week our nation will be inaugurating the next president. No matter whom you voted for, we are all children of God. Through our baptism in Jesus Christ, we become part of the One Body; what happens to one happens to us all. When we all are allowed to thrive in a society that treats everyone with dignity and respect, we open ourselves up to endless possibilities for prosperity. When opportunities are awarded to everyone equally, then we will all have unity and social harmony.
In his "Letter from a Birmingham Jail," Dr. King wrote, "We are caught in an inescapable network of mutuality, tied in a single garment of destiny. Whatever affects one directly, affects all indirectly." We have an opportunity to continue the legacy and vision of Dr. Martin Luther King Jr. not just on King Day, but every day, at all times and in all places.
Mount Tabor, Salt Lake City Burns Mortgage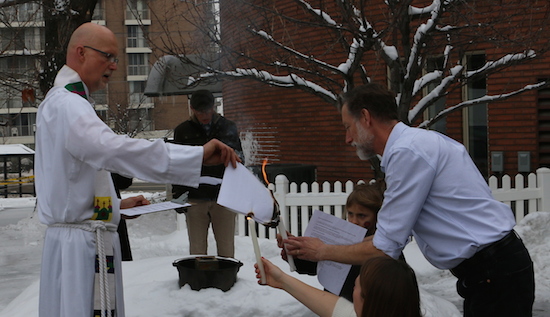 A major focus in 2015-6 for Mount Tabor was addressing the long-term financial well-being and sustainability of the congregation.  Pastor David Nichols invited members of the Endowment and Memorials committee and others to help begin an effort in 2016 to reduce or eliminate the mortgage debt.  The mortgage reduction program was called "Living Stones" based on  1Peter 2:4-5,  "Come to him, a living stone, though rejected by mortals yet chosen and precious in God's sight, and like living stones let yourselves be built into a spiritual house, to be a holy priesthood, to offer spiritual sacrifices acceptable to God through Jesus Christ."  The campaign goal was to significantly reduce the mortgage debt so that future families will be blessed to join Mount Tabor's mission without the burden of a building debt.
Thanks to the generosity of the congregation through the Living Stones Campaign and monies from Albert Johansen Memorial, Mount Tabor was able to retire the whole mortgage and celebrated with a mortgage burning ceremony Sunday, January 8, 2017.