You are here
Gathering Frequently Asked Questions
Wait, What?  We are all together? YES, we are! The youth gathering will be for middle school and high school youth, with joint and unique program experiences for each age group throughout the weekend. One gathering will allow for congregations to travel only once and meet the needs of both age groups in one setting. This is an important change logistically to improve access for all congregations and communities.
Wait, What? So…. Sr. High is joining the Middle schoolers? NO, the Middle School Gathering and the Sr. High Gathering have now merged in to an all age youth event called The Rocky Mountain Synod Youth Gathering. 
Wait, What? Are we all together the whole time? No. The youth gathering will be for middle school and high school youth, with joint and unique program experiences for each age group throughout the weekend. Our emphasized time together will be during large group/worship times.  All other times including workshops, service projects, dance, and others (depending on group leader) will be with your age group.
Wait, What? We are not at the Hotel Elegante? I know, I know, but we want this to be a new experience and a fresh start for The Rocky Mountain Synod Youth Gathering, so we chose a new and neutral location that fits into our desire for a 3 year rotation between varying locations that will provide a broader access to our vast geographical synod.
Wait, What? This year is from a Saturday to Monday? Yes! The youth gathering will be on the weekend of the Martin Luther King Jr. holiday and run Saturday afternoon through Monday morning. You can expect a similar schedule as before, with check in happening on Saturday evening and closing worship concluding before noon on Monday.  This schedule was requested by our congregations who have a drive of 4 or more hours to attend a gathering.  This schedule will allow for our traveling congregations to arrive without the anxiety of pulling youth out of school and adults having to take off work. 
Wait, What? But Monday is MLK day? Yes, it is, and as a Church we will respond with recognition, learning, celebration and honoring of Martin Luther King Jr and his work in moving us forward and recognizing that we are all equally beloved children of God.
Wait, What? Galatians 3:26-28? Yeah, it's a great verse that we as a Church are striving to live in to.  "for in Christ Jesus you are all children of God through faith. 27 As many of you as were baptized into Christ have clothed yourselves with Christ. 28 There is no longer Jew or Greek, there is no longer slave or free, there is no longer male and female; for all of you are one in Christ Jesus."
We have a new, 3 year rotation, and this year we will focus on Church for the sake of the World! We have invited a variety of musicians and speakers from different cultures and identities, who will engage us with their wisdom about the world around us as they see it! Church for the sake of the World means that we are all intrinsically connected, and when our neighbor suffers or rejoices, we too suffer and rejoice! We aren't "us and them" we ARE ONE in Christ Jesus!
Wait, What? What does Wait, What? mean? We are a diverse people and can become complacent with the world around us.  There is much to uncover, learn, celebrate, advocate for and act on.  Throughout our time together we will share stories that may shock us and create a passion for change and yet there will be stories that we can celebrate as a Church that is striving to be Better Together.
Wait, what?  $170? This gathering used to be between $110 and $140? The Rocky Mountains Synod has always been conscious of the financial implications of a gathering and as a result there have been very few participant fee increases over the last decade. Meanwhile the costs of housing, transportation, and special guests have increased significantly during that time. Combine that with the feedback that we have received regarding the stress of meals over the years, and we have increased the overall participant fee cost and added an all-inclusive atmosphere to this event. This registration fee includes all meals, hotel costs, programming, guests, and team expenses.  We do want to assure you that there are scholarship monies available to groups whom we have received a written request from and have been deemed in need of scholarship.
Wait, What?
Registration
Pre-registration • May 1 • $50 off
Registration • September 15 • $170
Late Registration • November 15 • $190
Registration Closes • December 10
Download Flier
Download Logo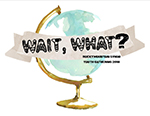 What sets The RMS Youth Gathering Apart?
Middle School Experience
Workshops
Service Opportunities
Evening Congregational Time
Sunday Carnival Celebration
High School Experience
Workshops
Deeper Engagement with Speakers
Cross-congregational Small Group Time
Sunday Dance