You are here
Gathering Well Digital Book Discussion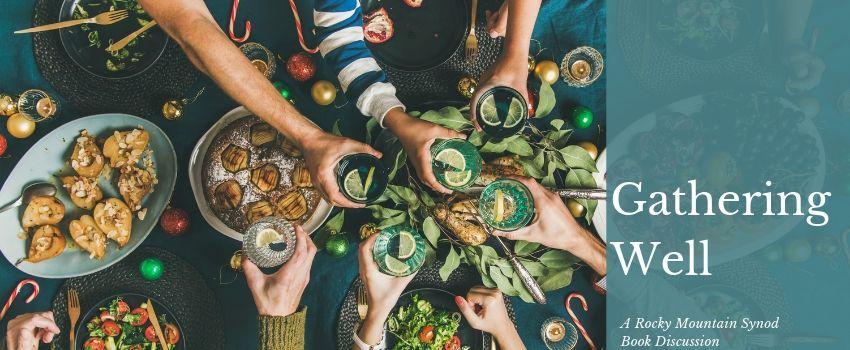 RMS Book Discussion Series
Across our Rocky Mountain Synod we gather in many ways: Faith Formation leaders connect via Basecamp and Facebook groups, rostered ministers gather via Zoom each week for text study, Rainbow Trail heads south to offer camp for our Border and North New Mexico youth, conference connections are strengthened through Better Together Summits. Our changing church, growing technological capacity, and creative questions are leading us to consider how we gather as the Church Together, what matters, and what new opportunities we might explore:
 
How do we gather and why does it matter?
What does it mean to create community in a digital world?
What makes a gathering meaningful, impactful, and transformational?
How do we create gatherings that are transformational, both as a synod and in our local ministries?
What makes a gathering meaningful, impactful, and transformational?
What might we need to be doing differently? What are the essential elements in being the Church Together? 
As part of our on-going learning and discernment, we will be using four books to guide our conversation:
How will we gather for conversation?
An on-going conversation via a digital discussion board on Basecamp
Live conversations via ZOOM (times and registration is in the right-hand column)
In-person conversations at the fall Theological Conference
Invite Deacon Erin Power to an adult forum, Bible Study, or small group in your congregation or ministry!
Basecamp Discussion Board
Sign up here!
The thread for each book will begin 2-3 weeks prior to the live Zoom conversation:
Community: June 25
Digital Cathedral: July 12
The Art of Gathering: August 1
Fierce Conversations: August 26
Zoom Discussions
Community
Thursday, July 11, 10:00am (register here)
Thursday, July 11, 6:00pm  (register here)
Digital Cathedral
Wednesday, July 31, 10:00am (register here)
Thursday, August 1, 6:00pm (register here)
The Art of Gathering
Wednesday, August 21, 10:00am (register here)
Thursday, August 22, 6:00pm (register here)
Fierce Conversations
Wednesday, September 11, 10:00am (register here)
Thursday, September 12, 6:00pm (register here)