You are here
Gathering Well Learning Lab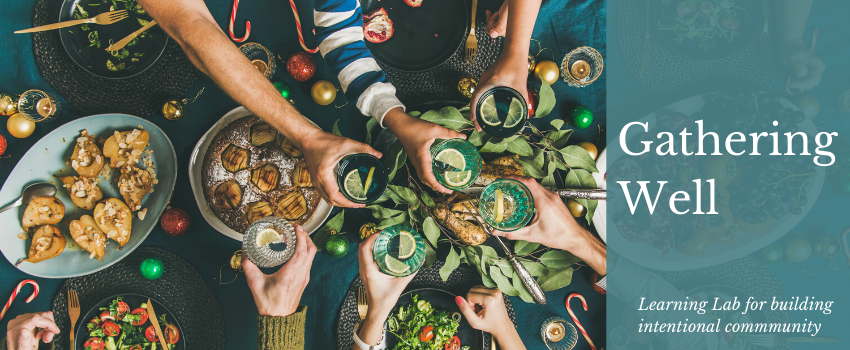 Gathering Well
This round of the RMS Gathering Well Learning Lab is complete. Thank you to those who were able to join us!  Deacon Erin Power is open to leading another session if a small group of leaders are interested in gathering for this conversation, please email her for more info.  We could 1 conversation, all 5 or somewhere in between. The goal is to explore together how to create transformational gatherings that matter. 
Why a "learning lab"? 
More than hearing from any sort of expert or joining to get the right checklist for planning a gathering, this is a place for dialogue, learning with and from one another. We actively test out models for gathering and participating in digital spaces and small group gatherings. Each session includes something to take with you to try out, with space at the next gathering to share learnings. Each gathering is focused on a central theme, with additional resources offered for deeper exploration. 
Previous Content/Sample Agenda
Gathering 1:  What Makes Community?
Gathering 2: Creating Intentional Space
Gathering 3: Let's Talk! (Powerful Conversations)
Gathering 4: Who's invited and What Shape is the Table?
Gathering 5:  Ending Well
Deeper Dive Resources
Videos and Podcasts
Bishop Karen Oliveto: For the Living of These Days
How Urban Spaces Can Preserve History and Build Community
How to Build With Clay...And Community
How to Build Community When You Feel Isolated
Together Apart (Podcast) by Priya Parker​
 Overview of Open Space
What Businesses Can Learn from Refugee Communities
Faith Five from Faith Inkubators
An Interview with the Founders of Black Lives Matter
Queer Eye (Netflix)
 
Books
Community by Peter Block
The Art of Gathering by Priya Parker
Digital Cathedral by Pastor Keith Anderson
The Newcomers: Finding Refuge, Friendship, and Hope in an American Classroom by Helen Thorpe
Future Search by Alan Weisbord and Sandra Jannoff​
Fierce Conversations by Susan Scott
Open Space Technology by Harrison Owen