You are here
Synod Hospitality Package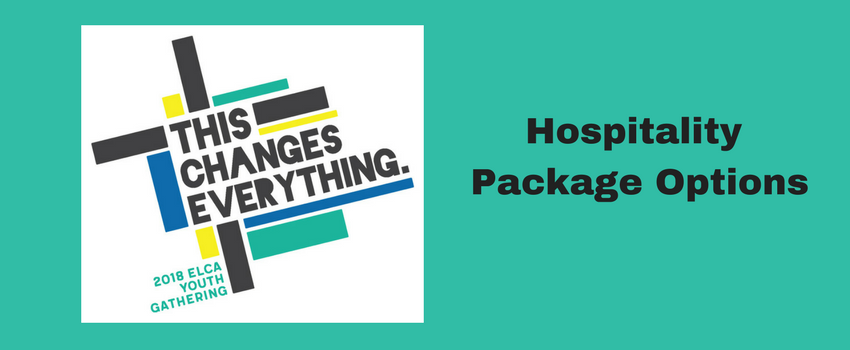 Synod Hospitality Package
Who does this include?
The Synod Hospitality Package is for all Rocky Mountain Synod participants of the 2018 ELCA Youth Gathering in Houston. This package is not a requirement but is being offered as a resource/convenience that we wanted to make available for those of us planning to take a group.
What does it include?
The Synod Hospitality Package will include dinner before opening worship at the hotel, brunch on Synod Day, morning and evening devotions, T-shirts, first aid personnel throughout our stay, A hospitality van providing snacks, water and shade for service day, as well as van access for emergencies.  For those who will be flying in we are also offering shuttles to and from the airport that will allow you to avoid lines and multiple stops during your arrival and departure from Houston.
When is this included? 
Airport Shuttles will begin on the evening of Tuesday June 26, and continue through the morning of Monday July 2nd.  The first meal will be served at the hotel before opening worship beginning at 4pm and up until gathering transportation leaves for NRG Park.   On our Synod Day, we will provide a brunch directly before our program begins. Devotions will be held each morning before send off and each evening before congregational time. The Synod will have vehicles throughout the stay for emergencies, first aid needs and hospitality visits to our service sites.
Where?
Rocky Mountain Synod participants will be housed together so long as they register before the November 16th cutoff date. Devotions and meals, will be at the Synod hotel and the hospitality vans will be making stops at your service site throughout the day.
Why?
 In the Rocky Mountain Synod we believe that we are church: Better together.  We are hopeful that these options will not only make planning easier for you and your group but will give you the opportunity to spend quality time in community with others from around the Synod and less time worrying about where your next meal will come from.
Details
There are 4 packages to choose from on a per person basis:
·        1.   "I'm all in" - $65 includes Airport Shuttles, 2 Meals, T-shirts, Devos, Hospitality Van, and First aid support.
·        2.   "We need the food" - $35 includes 2 Meals, T-shirts, Devos, Hospitality Van, and First aid support.
·        3.   "T-shirt only" $7 includes t-shirt for Synod Day.
·        4.   "Synod Better Together".  While we would prefer to all be together for key moments of the Gathering we understand that your church may have traditions or preferences that do not require the usage of the Synod Hospitality Packages.  We are still better together and will provide Devos, Hospitality Van, and First aid support.
After submitting your selection, send your payment within 30 days to:
The Rocky Mountain Synod ELCA Youth Gathering
c/o The Rocky Mountain Synod Hospitality Package
7375 Samuel Drive
Denver, Colorado 80221
For any registration questions please email Kevin Dragseth at Kevin@focolu.org.