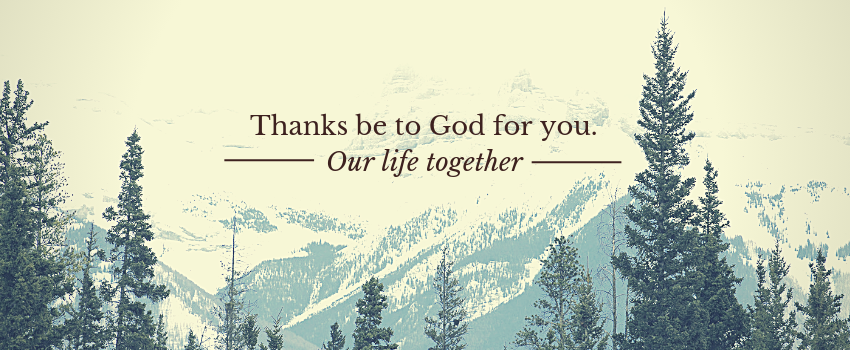 Beloved in the Rocky Mountain Synod,
As we journey through this time of Advent anticipation towards the fulfillment of Christ's promised coming, we give thanks for you and for your witness to the good news of God's love for all. We are grateful for our life together as Christ's Church and for the many ministry opportunities that our shared life makes possible.
As we move from 2018 to 2019, know that your Synod Council is engaged in a visioning process that will provide us with a new synod mission plan for the next three years. Building on the Spirit's work among us, we will continue to focus on the following key areas that empower us to proclaim and embody God's unconditional love for the sake of the world.
Claiming Our Gifts - Teach, proclaim and share the significance of our ELCA way of being part of Christ's Church with a clear and contagious vision from abundance.
Connecting in Ministry and Witness - Foster a Spirit of active collaboration and intentional connection across our Synod
Equipping All Leaders - Build healthy and vibrant faith communities by equipping lay leaders, pastors, and deacons for excellence in leadership
Accompanying One another into God's Future - Seek and promote new ways of being Christ's Church together in the world
Growing in Generosity - Strengthen our financial capacity for ministry and witness relying on a spirituality of generosity and abundance
Your faithful investment in our life together allows this vision to become reality. As you finalize your congregational spending plans for 2019, we ask you to give prayerful consideration to your congregation's mission support for 2019, knowing that your generosity not only funds our work as a synod but contributes to the impact made by our vast churchwide ministries. Our goal next year is to share 48% of all congregation support with our ELCA Churchwide organization.
You will be receiving in the mail a mission support intent form for 2019 together with a LITANY to be used in celebrating your congregation's generosity. You can either return the form by mail (English/Spanish PDF)or fill out the form below. 
Thank you for the many ways that you enable us to live and serve as Christ's Church, Better Together!
Yours in Faith,
Bishop Jim Gonia​
Vice President Earline Bohling