You are here
The Lutheran Center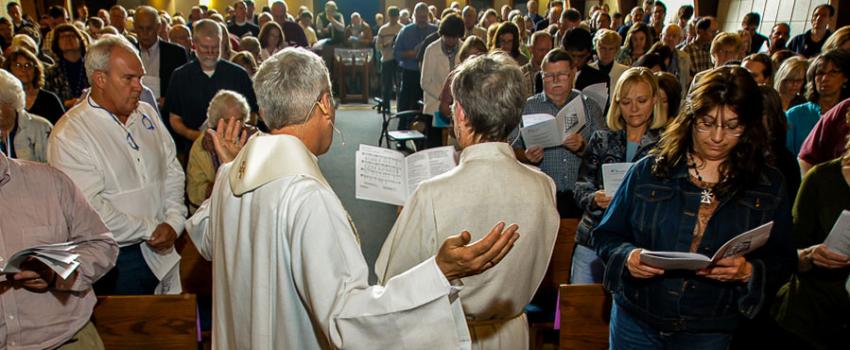 The Lutheran Center is the home of the Rocky Mountain Synod Office of the Bishop
Voting members at the May 2013 synod assembly endorsed a renovation and building project to transform the former Valley Lutheran Church property into a new Rocky Mountain Synod Lutheran Center for mission, ministry, education and spirituality. The site was dedicated on May 8, 2014, to a standing-room only congregation.
Valley Lutheran Church closed in 2010, and the property was given to the synod. The church property was originally constructed uniquely with three separate buildings. The north building was the congregation's "first unit" and later was used as the fellowship hall after the "second unit," a large sanctuary, was built. A third separate building, now called the "office annex" was the church offices. A covered walkway connects the three buildings.
The north building was extensively renovated and expanded, resulting in a beautiful and functional space. The construction manager for the project was Craig Tamminga, a member of Augustana Lutheran Church, Denver, who expertly orchestrated a complex project. Office costs are now reduced now because payments on the mortgage (plus site expenses) are less than the previous office lease. Utility costs are reduced since 80 solar panels have been installed on the north building. Congregations and individuals contributed more than $60,000 toward furnishings, landscaping, media, liturgical furniture and art for the new building.
The basement of the Lutheran Center building is used for a transitional housing ministry in Adam's County called "Growing Home." Families who are temporarily without a home stay in churches, with the congregations providing meals and hospitality volunteers. Cross of Christ Lutheran Church, Broomfield, Colo., has hosted Growing Home weeks at this site for many years. Members of Cross of Christ raised funds and coordinated a complete renovation of the center's basement kitchen area, which was in desperate need of an upgrade. A host of other congregations have been involved in the renewal, including several painting days for volunteers.
The basement and office annex house a Growing Home staff person and a community outreach staff person. The basement is the Growing Home day center.