You are here
Registration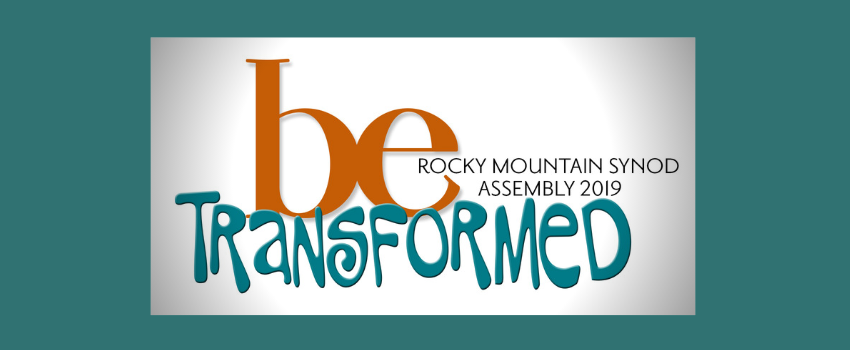 An invitation from Bishop Gonia:
Every year at our Synod Assembly, a common refrain is heard among first-time voting members: "It's so inspiring to be here. We had no idea how much our church does together!" In anticipation of our 2019 Rocky Mountain Synod Assembly, we are inviting those of you serving as congregational voting members to an exciting new opportunity. In addition to preparing for and participating in the Assembly, you will be commissioned as a Church Together Ambassador for the next year. What does this mean?
You will serve as an advocate of our shared life and witness as the Evangelical Lutheran Church in America until we meet in Assembly in 2020.

You will receive monthly materials containing stories or insights about why our life as church together matters; these materials will highlight ministries of our congregations, partners, synod and wider church.

In coordination with your pastor, you will share these stories and insights with your congregation monthly, ideally in worship.

You will be encouraged to network with other Church Together Ambassadors and seek additional ways to share the energy and enthusiasm generated when we gather in Assembly.
Look for more details to come – and thanks in advance for your commitment to our life as Church Together!
REGISTRATION INFORMATION
PLEASE NOTE: Registration is a two-part process.  
You register for the Assembly (here or use the link at the bottom of this page)
And unless you are a commuter, you will make your own hotel reservation at the Embassy Suites at this link
To make a reservation by phone (505-245-7100) use the Group Name: Rocky Mountain Synod-ELCA; Group Code: RMS
Single Room: $119
Double Room: $129
Triple: $139
Room rate includes breakfast and an evening reception. All rooms are 2-room suites with a pull-out couch.
Hotel Reservation deadline is April 12
To guarantee our group rate, you must reserve your hotel room by April 12. 
After this date, rooms may still be available, but we cannot guarantee the group rate. If needed, there will be additional rooms reserved at the Sheraton, with complimentary shuttle service provided.
Exception: Hotel reservations for both Youth Voting Members and Youth Visitors are included in their registration. Youth will automatically be assigned to a room within the youth block, unless they specifically opt out of this arrangement.
Registration Cost
Voting Member:  $300
Retired Voting Member*:  $150
  *as designated by Office of the Bishop
Visitor with Meals:  $250
Visitor without Meals:  $125
Exhibitor with Meals:  $175
Exhibitor without Meals:  $50
Youth Visitor (incudes hotel): $150
NEW! Saturday Visitor (includes excursion, dinner, and worship): $50
 
Registration Information
 Information You Will Need to complete Registration:
Email address for registrant: For online voting and communication purposes, this email address should NOT be the general email address of the church office. The email address listed in each registration should be unique for the voting member and able to be accessed during the assembly.
​Dietary Requests
Need for Translation 
Any meals not needed
T-shirt size (optional: $15)
For questions about registration or to make changes, call the Office of the Bishop or email Deniese Estrada: destrada@rmselca.org.  
If you are paying by check:
Please print a copy of your invoice and send it, along with a check made out to the Rocky Mountain Synod to:
Rocky Mountain Synod
7375 Samuel Drive
Denver, CO 80221
If you would like to pay by credit card:
1) Go to www.rmselca.org
2) Click "give now" on the bottom right of the home page
3) Type in amount listed on your invoice
4) Select "Assembly Registration" in the Give To line
5) Type in Congregation & participant name in Memo line
6) select "cover processing fees"
Registration deadline and payment is due April 12
How many voting members?
The voting members of the assembly are determined as follows:
A.  Congregations are allowed 2 lay voting members, 1 male and 1 female. 
B.  In addition, based upon baptized membership records for the previous year
(1)  Congregations having membership of 650 to 1,199 baptized members shall be allowed one additional lay voting member (male or female).
(2)  Congregations having membership of 1,200 or more baptized members shall be allowed two additional lay voting members (one male and one female).
- In the selection of voting members, congregations are urged to be aware of the matter of inclusiveness of persons of color and/or persons whose primary language is other than English.
D.  All Ministers of Word and Sacrament (pastors) and Ministers of Word and Service (deacons) under call or on leave from call on the roster of the Rocky Mountain Synod are voting members.
G.  All retired Ministers of Word and Sacrament on the roster of this synod who are currently serving as interim pastors and all Ministers of Word and Sacrament on leave from call on the roster of this synod who are currently serving as interim pastors and who are in attendance at the assembly are voting members.
H. Youth/Young Adult Voting Members
It is the goal of this synod that at least 10% of the voting members of the Synod Assembly, Synod Council, committees, and organizational units of this synod be youth and young adults. For purposes of the constitution, bylaws, and continuing resolutions of this synod, the term "youth" means a voting member of a congregation who has not reached the age of 18 at the time of election or appointment for service. The term "young adult" means a voting member of a congregation between the ages of 18 and 30 at the time of election or appointment for service.
Encouraging Youth and Young Adults to be Leaders in the Church
The Rocky Mountain Synod will continue to live into the ELCA's goal of expanded roles for youth and young adults in all expressions of our church. Rostered and lay leaders are encouraged to have conversations with the youth and young adults in their midst regarding the opportunity to serve on church council and as voting members at this year's synod assembly.
A youth or young adult voting member is not an additional voting member. The youth or young adult is one of your congregation's allotted voting members.