You are here
2018 Theological Conference Schedule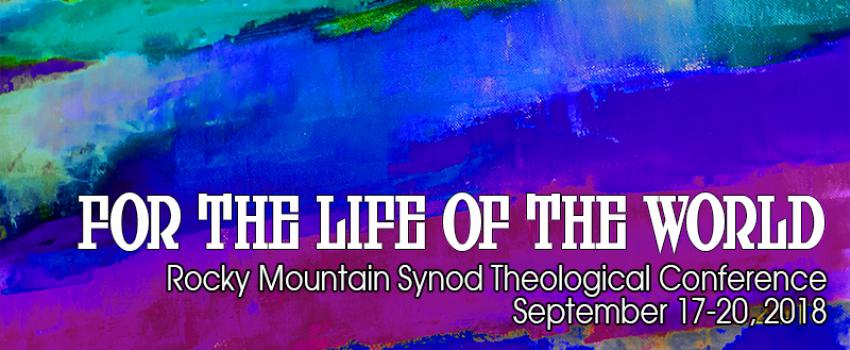 2018 Theological Conference Schedule 
YMCA of the Rockies
Estes Park, CO
Monday, September 17
2:30-4:30pm:  New to Synod Gathering
3-5:30pm: Registration
4-5:30pm: Welcome Reception
5-6:30pm: Dinner:
6:45pm:    Opening Worship 
7:45pm:    Evening Fellowship
Tuesday, September 18
7-9:00am:  Breakfast open 
8:30am:     Registration                  
9:00am:     Morning Prayer
9:15am:     Session 1: Laying the Foundation/Introduction
​10:45am:  Coffee Break
11:15am:   Bible Study Session 1
12:15pm:  Lunch 
1:30pm:    Session 2: Land
2:45pm:    Break
3:00pm:    Bible Study Session 2
4:00pm:   Afternoon/evening off     
7:30pm:   Poker Tournament and game night       
Tuesday dinner is on your own. There will be a list of local restaurants in your packet, and you can also purchase dinner at the Y. Often folks will organize a trip to Rocky Mountain National Park or other local attractions. 
Wednesday, September 19
7-9:00am:  Breakfast open 
9:00am:     Morning Prayer
9:15am:     Session 3: Our Sacred Stories
10:45am:  Coffee Break
11:15am:  Bible Study Session 3
12:15pm:  Lunch
1:30pm:    Session 4: Our Life Together 
2:45pm:    Conference Meetings as requested
3:45pm:    Optional breakout sessions or Break
5-6:30pm: Dinner
6:30pm:    Worship
7:45pm:     Evening Reception and Book Exchange
Thursday, September 20
7-9:00am:  Breakfast open
8:45am:     Opening Prayer
9:15am:     Breakout sessions
10:15am:  Break
10:30am:  Closing Session
11:30am: Go in Peace. Serve the Lord!
What's new this year?
Bible Study Tracks
Each participant will choose 1 track for a 3-session, in-depth conversation around the topic of their choosing. Participants will leave equipped to lead these conversations/studies in their own contexts. Sessions include:
Hungering for Justice: Peter Severson & Ruth Hoffman, Lutheran Advocacy
Jesus and Kingdom Economic: Rev. Ray Pickett, PLTS
Looking at the Land:  Rev. Ron Roschke
Centering Prayer:  Rev. Dr. Darlene Muschett, Lord of the Mountains, Dillon, CO
Race Relations: Rev. Barbara Berry-Bailey, Our Saviour's, Salt Lake City
Communal Spiritual Direction: Rev. DanaLee Simon
Embracing Repentance: Rev. Susan Quass, NM Conference of Churches
Bible Study with Prairie Rose Seminole
Book Exchange
We all have great books that have informed and transformed our ministry- and we love sharing our great finds with colleagues! Well here is just the place to do just that! Please bring at least 2 books to the exchange: 1) a book that has transformed your ministry, but you aren't quite ready to give it up yet and 2) a book that has changed the way you do ministry and you want to pass it along to a colleague. 
You will be guaranteed to leave with a list of RMS must-haves for ministry, and maybe even a copy of your next great read!