You are here
2018 Synod Assembly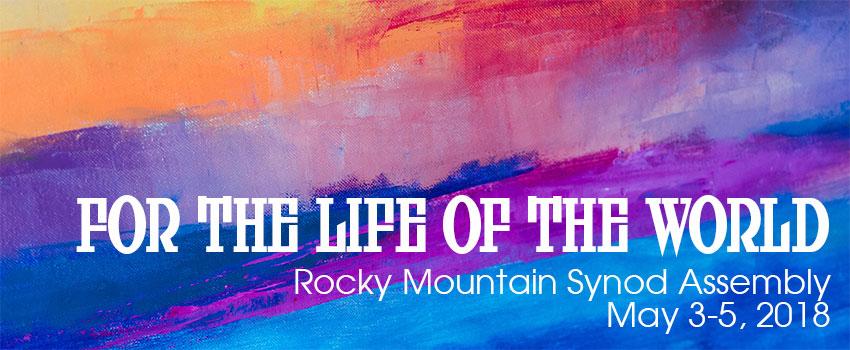 2018 Synod Assembly: For the Life of the World
May 3-5, 2018
Westin Hotel
10600 Westminster Blvd, Westminster, CO 
 
At a time when conversations in the church tend to focus on survival and sustainability, in light of a future filled with so much uncertainty, it's more critical than ever that we remember that the Body of Christ exists not for itself but for the sake of the world God so loves. As people of faith, we have been called to new life in Christ so that we may serve as the Spirit's instruments of hope and healing for every neighbor on our globe as well as for the earth itself. Join our 2018 Rocky Mountain Synod Assembly as we explore what it means to be Christ's Church Together, for the life of the world.
Keynote Speaker: Dr. Cynthia Moe-Lobeda
Dr. Moe-Lobeda is a professor of Theological and Social Ethics at Pacific Lutheran School of Theology.  Her areas of teaching include the ethical dimensions of economic globalization, faith-based resistance to systemic injustice, and the role of Bible in ethics.
Musicians: Tangled Blue
Tangled Blue will once again be joining us as our assembly musicians. Making music together since 2003, Joel and Aimee Pakan have shared their music in congregations, festivals, and youth gatherings around the globe. Currently both Joel and Aimee are Fund for Leaders Scholarship recipients studying at United Lutheran Seminary in Philadelphia.
Registration Details
Assembly Registration Fee, which includes program costs, materials, three meals, and breaks. The Registration Fee does not include the hotel.
Voting Member: $300
Visitor with Meals: $250
Visitor without Meals: $125
Exhibitor with Meals: $175
Exhibitor without Meals:  $50
Youth Visitor (includes hotel): $150
You will make your own hotel reservation at the Westin Hotel by calling: (303) 410-5000 or you may register online.
Room Rate: $109
Room rate does NOT include breakfast. Breakfast can be added to your registration for an additional $15/person per day. There are a few breakfast options within walking distance of the hotel as well as a mini-fridge in each room.
Scholarships and Travel Assistance
We are Christ's Church, Better Together!  Which means we are not complete unless all are gathered around the table. Scholarships are available to those who need financial assistance. The online request form will be posted here by February 1. 
Travel Equalization forms will be available at the assembly providing assistance to those more than 150 miles away (300 miles round trip)
*** Register ONLINE HERE! ***
Important Deadlines
Exhibitor Requests are due Thursday, March 1
An online request form will be available Thursday, February 1
Registration deadline is Friday, March 23
Registration will be available online Thursday, February 1. The online request form for exhibitors will also be available at that time.
Nomination deadline for non-Bishop Elections is Friday, March 23
The nomination form is available here
Deadline for submitting Resolutions and Memorials is Friday, March 23
Information can be found here
Ministry Booklet Pages are due Friday, March 23
The on-line request form for exhibitors and ministry booklet pages will be available early February.
Hotel Reservation deadline is Friday, April 13
 
Save the Date!
May 3-5, 2019
Friday-Sunday
Embassy Suites
Albuquerque, NM
Registration: $300
Hotel: $119-129
May 2020
Conference/Regional Assemblies
May 2021 (Proposed)
Northern Colorado