You are here
2020 Synod Assembly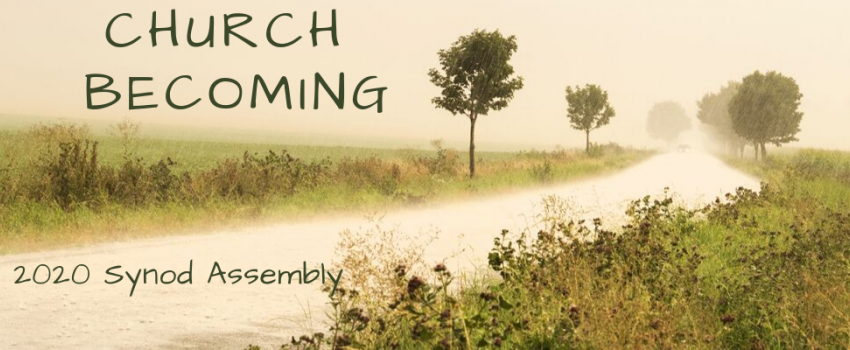 2020 Synod Assembly 
Our synod assembly theme seems particularly fitting in these uncertain days where we are, out of necessity, exploring new and different ways to be church in a time of physical distancing. The RMS Council voted last night to move our five location regional assembly to an all-digital format. The fact we were were already planning to conduct business via ZOOM means we were well-poised to make this adaptation!The council agreed it was important to gather as a synodical community in this way, but knew we needed to make some modifications to the programming. Instead of gathering for two days of business, worship, and programming, we will gather individually via ZOOM for a half-day assembly that will still include many of those elements
Date: Saturday, May 2 only
Time: TBD. Approximately 8:30 a.m. - noon
Location: ZOOM
AGENDA
Worship and morning prayer
Passing the 2020-2021 Budgets
Approving updates to the RMS Constitution 
State of the Synod from Bishop Gonia
Keynote Address and other programming, TDB!
Voting members
Congregations will still need to elect/appoint voting members. Rules state that all participants must be able to communicate in real time, so participants will need to join ZOOM via computer or tablet that has audio and video. We will not be providing a phone number, as we need to be able to see participants who want to speak.
Registration
Registration for voting members and visitors will be $25. Registration information can be found here: https://www.rmselca.org/registration
If you have already registered, we will be working in the next few weeks to issue adjusted invoices and/or refunds as needed. Please be patient as we make these adjustments.
Nominations
We are seeing now more than ever how important our life together as church - congregations, ministries, and synod- is. A number of opportunities to participate in our life together are available on our boards and committees. The nomination deadline has been extended to March 30. https://www.rmselca.org/elections
Hotel
We have canceled all room blocks. If you have made an individual reservation, please contact the hotel directly.
May 2, 2020
Registration Fees
UPDATED: $25 for all visitors and voting members!
Hotel Information
All blocks are reserved under the group name "Rocky Mountain Synod"
South Colorado Location
Fairfield Inn & Suites
15275 Struthers Road
Colorado Springs, CO 80921
$129/night (includes breakfast)
Reservation Deadline: March 18
Cheyenne
Little America
2800 W Lincoln Way
Cheyenne, WY 82009
1-800-235-6396
$114/night (breakfast not included)
Reservation Deadline: April 2
Albuquerque
Courtyard by Marriott 
5151 Journal Center Blvd NE
Albuquerque, NM 87109
$123/night (breakfast included)
Reservation deadline: April 3
Price
Call hotel to make reservation
 (435) 637-7700​
Holiday Inn Express 
925 Westwood Blvd
Price, UT 84501
$110/night (breakfast included)
$130/night for suite
Reservation deadline: April 15
North Metro Location
Hampton Inn & Suites
5030 W 88th Pl
Westminster, CO 80031
Save the Date!
April 29-May 1, 2021 
Embassy Suites, Loveland, CO
April 29-May 1, 2022
El Paso Convention Center