You are here
Global Church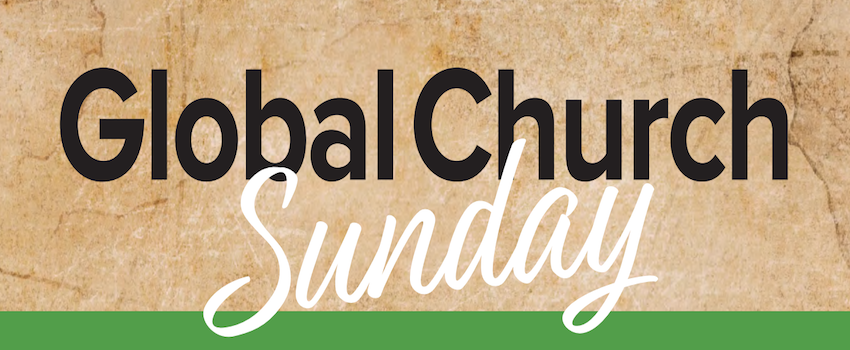 Glocal Church Sunday: January 6, 2019
Introduction: These worship resources were gathered together to help congregations and worshiping communities of this church celebrate our connections and common mission in Christ's global church.
The texts and prayers included below help bring to expression our understanding that we are united by the Spirit of God through the means of grace with our siblings in Christ throughout the world.
The resources below maybe we adapted for your local context. These prayers may be tied to specific people in global service with the ELCA. You can share real-life stories from the global church with updated resources HERE
Healing of the Nations Litany (music)
Healing of the Nations (Leader's guide)
Thomas Mass from Peace Not Walls
You might also consider other ways to highlight our global connections in:
Preaching: Invite a speaker from our Global Church Speaker's Bureau
Art
Paraments, Vestments, Flowers
Offering: consider designating an offering to Global Mission, World Hunger, Peace Not Walls, RMS Border Emergency Fund or Seeds of Hope (Companion Synod Fund for Madagascar)
Bulletin insert: Be sure to include a Global Church Sunday bulletin insert highlighting facts about our church's global engagement in your bulletin. You can download it for free at www.elca.org/resources/globalchurch. Find them on the Global Church Sunday Tab!
Global Church Placemats for Coffee Hour or used as coloring pages for children
Videos during offering or adult forum from an ELCA Missionary
Here is a short video reflection from Ryana Holt who recently served with Global Mission. 
And here is another video from Genna Clemen who is serving as a YAGM in Jerusalem/West Bank. Consider these questions as you view her story:
Where is Genna serving as a YAGM (Young Adult in Global Mission) volunteer?
Who are the YAGM volunteers?  How are they different from other missionaries of the ELCA?
Genna's partnering institution is the ELCJHL (Evangelical Lutheran Church in Jordan and the Holy Land).
With what people, therefore, is Genna working?
What are the two sites where she is working?
What does she mean when she says she is "accompanying" them?
How might this be different from what earlier missionaries did?
And here are two more short videos from Michelle Moyer:
We are a church that believes God is calling us into the world — together. 
Seventy million Lutherans do make a difference! As a member of The Lutheran World Federation, the ELCA is one of 142 member churches in 79 countries all over the world. We are called to walk alongside our Lutheran brothers and sisters to grow the church and to do God's work of restoring and reconciling communities everywhere. 
The ELCA has deep, longstanding relationships with Lutheran churches and other partners around the world. We respond to our companions and help support the growth of their work — new congregations, urban and youth outreach, theological education, pursuit of justice and peace and leadership training just to name a few. As we work together with our partners and participate in God's work in the world, we all grow in faith and benefit — we grow stronger as a global church. 
The ways in which we live and serve as a global church are as diverse as the people, communities, churches and countries that we work alongside and support. The ELCA is hard at work with its partners:
Building up the church in countries around the world.
Creating meaningful service opportunities for young adults and adults.
Supporting the work of over 240 ELCA missionaries in more than 40 countries.
Nurturing Companion Synod relationships with global church partners.
Providing scholarships, theological education and training for international leaders.
Pursuing support for crucial and innovative approaches to participating in God's mission in the world.