You are here
Congregations in Transition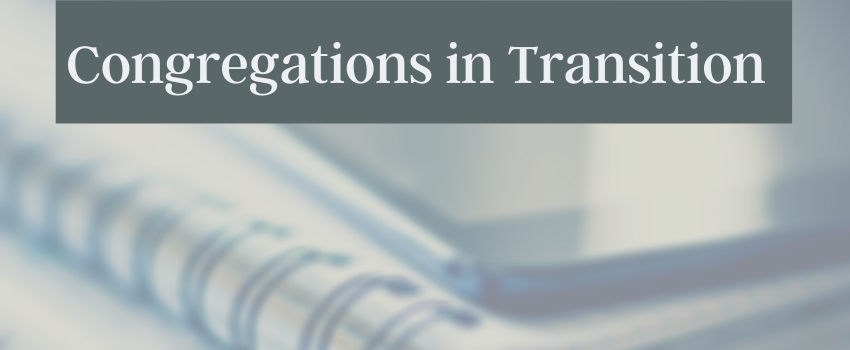 An opportunity for renewal and reflection
Transitions are a part of life, filled with both challenge and opportunity. For communities of faith, transitions are fertile ground for God's transformational work. When a congregation begins this journey of transformation, the Rocky Mountain Synod Office of the Bishop accompanies congregations and rostered ministers. Congregational transitions are incredibly significant in the life of the whole church. They offer a rare opportunity for renewal and a time to reflect on the ministry and future of each congregation in unique ways. Entering the transition process intentionally and thoughtfully allows the Holy Spirit to move and breathe new life into the ministry of your congregation. 
Each of the sixty-five synods of the ELCA is responsible for the management of the call process within the territory of their respective synod. Pastor Sarah Moening and Pastor Kent Mueller are responsible for the call process.  
Resources for interim ministry
Documents regarding interim ministry will assist pastors and congregations during a time of intentional interim ministry. Download the "Resources for Interim Ministry" document to get the following information:
Letter of Agreement Form A
Letter of Agreement Form B
Litany of Welcome
Developmental Tasks for the Interim Period
Interim Pastor's Report
Litany of Farewell 
Interim Pastor's Exit Report
Evaluation of Completed Term of Interim Ministry
Resource Links:
Ministry Site Profile (MSP) information
RMS Compensation Guidelines for Leaders
Medical/Pension Calculators from Portico
ELCA Benefit Coverage during Times of Transition
Information for rostered leaders
Litany of Thanksgiving at the Conclusion of an Interim Pastorate
Transition ministry affirmations
"On behalf of the St. Paul's Lutheran Church Council and Congregation, thank you... You have developed a good sense of how we feel and how as a congregation we have grown and changed. We can hope again. All of this was facilitated through the transition policies you have developed for a church to follow when their pastor has left. I believe it was God's guidance that helped us follow these policies and I am certain that our next call will be successful because we were steadfastly did our best to follow the path you set us on."
St. Paul Lutheran Church
Cheyenne, WY
"As each phase has been completed, the sense of well-being has grown and the congregation feels we are "good to go" with a new pastor. The interim time between the end of this two-year Intentional Interim period has assured us that we are okay while the last few months pass and the Call Committee completes its work."
Cross of Hope Lutheran Church
Albuquerque, NM
"The questions provided to the congregation intended to gauge who we are are, what is important to us, and what we want in a pastor were much more revealing than I thought at the time we filled them out. When I first heard the statement that the call process may last for as much as a couple of years, I was shocked. But to my amazement, the synod's planning, protection, and care provided the greatest blessing any of us at Trinity could have imagined in the presence of our Interim Pastor. Having to go through the call process made us think. We did not select a clone of our previous pastor. Thanks to your help, we selected a pastor who we believe fits us as well as we fit her into growing this congregation for the Glory of God."
Trinity Lutheran Church,
Laramie WY