You are here
Hunger Network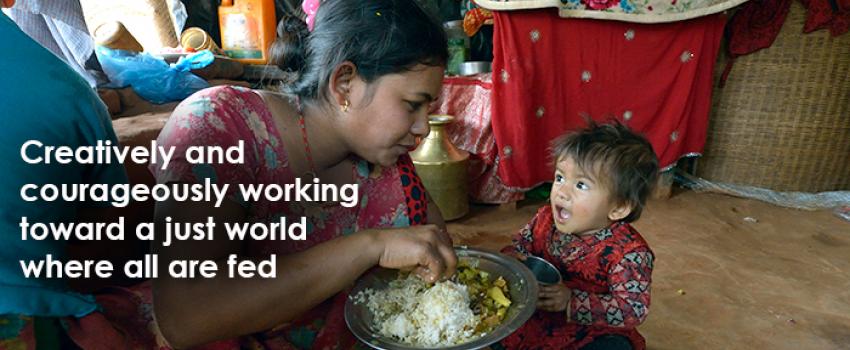 Thank you for amazing generosity!
ELCA World Hunger is a ministry of our whole church that had its beginnings in 1974 when 1 in 4 people around the world suffered from chronic hunger. Today, 1 in 9 are hungry; so progress has been made.  However, for the first time in over a decade a FAMINE was declared last year.  Over 20 million people are at risk of death from hunger in South Sudan, Somalia, Yemen, and northeast Nigeria.  In addition, for the first time in over a decade, the finite number of people experiencing hunger increased. Thirty-eight million more people were hungry last year than in the previous year.
Our neighbors need us, and the congregations and people of the Rocky Mountain Synod responded with amazing generosity in 2017.  Together, we contributed $708,737 to ELCA World Hunger.  That is the largest amount ever given by our synod, and we ranked fourth among all the synods of the ELCA.  If you want to see what your congregation contributed last year, check out the giving reports in the Documents section of this page.
How does ELCA World Hunger work?
Hunger and poverty are the result of many interconnected causes and are most successfully alleviated when a project addresses more than one of these causes.  People who live in poverty need to be part of the decisions about what they need.  Thus, programs supported by ELCA World Hunger accompany people and often take an integrated approach to community development, in which a community works across several areas simultaneously to create lasting change. 
When people learn new farming techniques and participate in a village savings and loan group, they have two ways of ensuring their economic and food security.  Health promoters can provide health education and access to health care in the present, while also mobilizing communities to advocate for appropriate clinical health care in the future.
By addressing an issue from many angles, we can equip individuals with several skills and resources that allow them to create lasting, positive change in their lives -- resulting in communities that are more resilient and responsive.  Your gifts to ELCA World Hunger support projects and activities that are creating integrated, holistic transformation in more than 60 countries around the world!
For more information, resources for education, and ideas for how you can help, visit the hunger pages on the ELCA website.
How to donate to ELCA World Hunger
Individuals 
CONGREGATIONAL GIFTS:  If you have a church envelope "check off" or a World Hunger Appeal envelope, write a check to your congregation and place in the designated envelope. Cash contributions can also be placed in these envelopes.  If no special envelope or on-line giving designation is available, write the check to your congregation and put ELCA World Hunger in the memo line. 
INDIVIDUAL GIFTS:  If you would like to make an on-line donation to ELCA World Hunger, go to www.elca.org/hunger/donate.
Congregational Contributions
Congregational treasurers can send checks directly to the Rocky Mountain Synod and indicate that the contribution is for ELCA World Hunger OR include the world hunger amount in the monthly benevolence remittal by clearly marking the contributions to ELCA World Hunger on the synod form. Congregational checks written to ELCA WORLD HUNGER can also be sent directly to Evangelical Lutheran Church in America  P.O. Box 1809 Merrifield, VA  22116-8009.
Disaster Response Contributions 
For donations to disaster efforts, make checks payable to LUTHERAN DISASTER RESPONSE  and mail them to Evangelical Lutheran Church in America   P.O. Box 1809  Merrifield, VA  22116-8009.  If you want donations to fund a particular disaster response, please indicate that in the memo line of the check.  These donations can also be included in monthly benevolence remittals to the Rocky Mountain Synod or by sending a check directly to the Rocky Mountain Synod and indicating the contribution is for Lutheran Disaster Response. 
Domestic Hunger Grants
Earlier this year, nine Domestic Hunger Grants were awarded to organizations on the territory of the Rocky Mountain Synod. The total of $22,000 awarded was part of over $715,000 of ELCA World Hunger contributions returned to places where they are needed most in the communities and congregations across the ELCA.
The one-year RMS grants are:
Aurora Community Connection Family Resource Center (Aurora, CO) - $3000 for English Language Classes/Family Literacy Project.
St. Mark's Lutheran Church (Aurora, CO) - $3000 for English Language/Family Literacy Program
Bethel Lutheran Church (Aurora, CO) - $3000 for English Language/Family Literacy Program
New Mexico Center on Law and Poverty (Albuquerque, NM) - $3500 for Protecting Access to Food Assistance in New Mexico
Urban Servant Corps (Denver, CO) - $2500 for development work
American Lutheran Church (Grand Junction, CO) - $2000 for Church in Society Hunger Relief Project
Family Promise of Albuquerque, Inc. (Albuquerque, NM) - $2000 for housing homeless families
Homeless Gear Murphy Center for Hope (Ft. Collins, CO) - $1500 for Food Pantry and Food Programs
Crossroads Safehouse, Inc. (Ft. Collins, CO) - $1500 for emergency shelter for domestic violence victims
New Application Process Coming in June!
In June of this year, a new two-year ELCA World Hunger Domestic Hunger Grants cycle will open with a renewed team approach and application process.  This granting program will be open to congregations and their partners and will focus on building relationships for local service and action in our communities.
For the first time, these applications will be completed through the  new ELCA granting platform, ELCA GrantMaker.  On-line training and an official introduction video will be shared soon.  Keep checking this website for updates!  In the meantime, email ELCA World Hunger if you have questions.