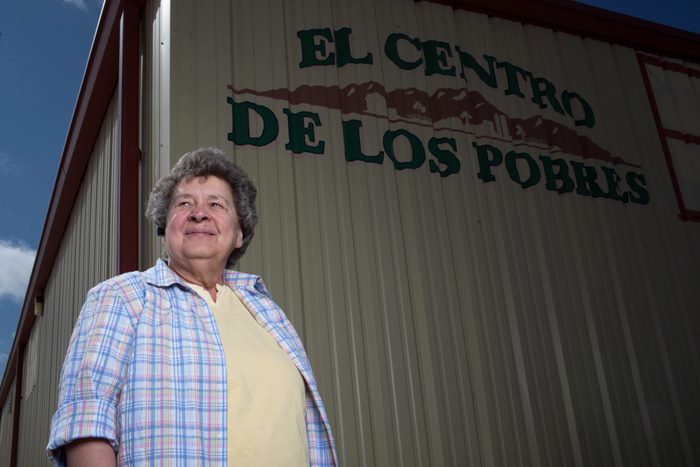 Sister Nancy and the Ministry of Los Pobres in Avondale, CO
Serving Among Migrants Before and During the Time of Covid
Tuesday, August 10, at 6:30 p.m.

El Centro de Los Pobres (The Center for the Poor) is a non-profit organization meeting the daily survival needs of immigrant workers with low-paying jobs.  Los Pobres was established in the 1990's by Father Maurice Gallagher, pastor of Sacred Heart Church in Avondale, CO. Today, his efforts continue under the direction of the indomitable and dedicated Sister Nancy Crafton.  An all-volunteer staff provides help to over 200 families a week.  The majority live below the poverty level and cannot access assistance through the channels open to American citizens. Los Pobres distributes 1000 pounds of pinto beans, 600 pounds of rice, and 720 cans of vegetables a week.  Other services include help with clothing, shelter, medical care, utility bills, dental care, immigration paperwork, etc. 
Why is this work spiritually important?  Sister Nancy gave voice to her dream in a 2010 interview with The Pueblo Chieftain: I hope that "Mexican immigrants someday will be welcomed as their European counterparts were and still are today, and that the work they do will be valued — in both cultural and financial terms — rather than viewed as a crime against the society that benefits...We're all part of the human family.  We all have the right to want a good life for our children and not live in poverty or fear.  I would like to see, before my time comes to leave this world, that we have a sense of justice for our migrants."
Let the people say…AMEN!
Join the Rocky Mountain Synod Hunger Network at 6:30 pm on Tuesday, August 10, to hear about this soul-filled ministry and listen to all the stories Sister Nancy has to tell! 
 
ZOOM: https://zoom.us/j/91045154307?pwd=SWRtdzhaalk3SFpXUWw0M1RFblV4Zz09
---
How does ELCA World Hunger work?
Hunger and poverty are the result of many interconnected causes and are most successfully alleviated when a project addresses more than one of these causes.  People who live in poverty need to be part of the decisions about what they need.  Thus, programs supported by ELCA World Hunger accompany people and often take an integrated approach to community development, in which a community works across several areas simultaneously to create lasting change. 
When people learn new farming techniques and participate in a village savings and loan group, they have two ways of ensuring their economic and food security.  Health promoters can provide health education and access to health care in the present, while also mobilizing communities to advocate for appropriate clinical health care in the future.
By addressing an issue from many angles, we can equip individuals with several skills and resources that allow them to create lasting, positive change in their lives -- resulting in communities that are more resilient and responsive.  Your gifts to ELCA World Hunger support projects and activities that are creating integrated, holistic transformation in more than 60 countries around the world!
For more information, resources for education, and ideas for how you can help, visit the hunger pages on the ELCA website.
How to Donate to ELCA World Hunger
 
---
RMS Hunger Network Core Team