You are here
Hunger Network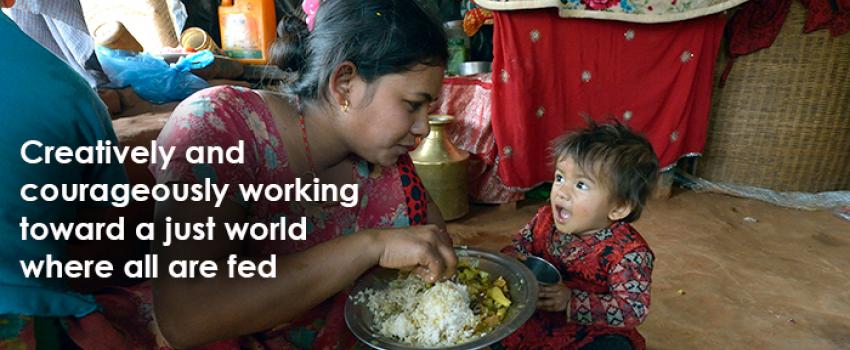 Thank you for continuing generosity!
ELCA World Hunger is a ministry of our whole church that had its beginnings in 1974 when 1 in 4 people around the world suffered from chronic hunger. Today, 1 in 9 are hungry; so progress has been made.  However, for the first time in over a decade a FAMINE was declared in 2017. Over 20 million people are at risk of death from hunger in South Sudan, Somalia, Yemen, and northeast Nigeria. In addition, for the first time in over a decade, the finite number of people experiencing hunger increased. Thirty-eight million more people were hungry last year than in 2017.
Our neighbors need us, and the congregations and people of the Rocky Mountain Synod continued to respond with amazing generosity in 2018. Together, we contributed $613,106 to ELCA World Hunger.  That represents a drop over the record-breaking amount given in 2017; but we continue to rank among the top ten synods of the ELCA.  If you want to see what your congregation contributed last year, check out the giving reports in the Documents section of this page.  
How does ELCA World Hunger work?
Hunger and poverty are the result of many interconnected causes and are most successfully alleviated when a project addresses more than one of these causes.  People who live in poverty need to be part of the decisions about what they need.  Thus, programs supported by ELCA World Hunger accompany people and often take an integrated approach to community development, in which a community works across several areas simultaneously to create lasting change. 
When people learn new farming techniques and participate in a village savings and loan group, they have two ways of ensuring their economic and food security.  Health promoters can provide health education and access to health care in the present, while also mobilizing communities to advocate for appropriate clinical health care in the future.
By addressing an issue from many angles, we can equip individuals with several skills and resources that allow them to create lasting, positive change in their lives -- resulting in communities that are more resilient and responsive.  Your gifts to ELCA World Hunger support projects and activities that are creating integrated, holistic transformation in more than 60 countries around the world!
For more information, resources for education, and ideas for how you can help, visit the hunger pages on the ELCA website.
How to donate to ELCA World Hunger
Individuals 
CONGREGATIONAL GIFTS:  If you have a church envelope "check off" or a World Hunger Appeal envelope, write a check to your congregation and place in the designated envelope. Cash contributions can also be placed in these envelopes.  If no special envelope or on-line giving designation is available, write the check to your congregation and put ELCA World Hunger in the memo line. 
INDIVIDUAL GIFTS:  If you would like to make an on-line donation to ELCA World Hunger, go to www.elca.org/hunger/donate.
Congregational Contributions
Congregational treasurers can send checks directly to the Rocky Mountain Synod and indicate that the contribution is for ELCA World Hunger OR include the world hunger amount in the monthly benevolence remittal by clearly marking the contributions to ELCA World Hunger on the synod form. Congregational checks written to ELCA WORLD HUNGER can also be sent directly to Evangelical Lutheran Church in America  P.O. Box 1809 Merrifield, VA  22116-8009.
Disaster Response Contributions 
For donations to disaster efforts, make checks payable to LUTHERAN DISASTER RESPONSE  and mail them to Evangelical Lutheran Church in America   P.O. Box 1809  Merrifield, VA  22116-8009.  If you want donations to fund a particular disaster response, please indicate that in the memo line of the check.  These donations can also be included in monthly benevolence remittals to the Rocky Mountain Synod or by sending a check directly to the Rocky Mountain Synod and indicating the contribution is for Lutheran Disaster Response. 
New Domestic Hunger Grant application process enters second year!
ELCA World Hunger's 2020 Domestic Hunger Grant application is now OPEN.  
The Domestic Hunger Grant process has been in transition to a new three-year cycle.  Relatively few grants were awarded in 2019 because we anticipate that each successive year's grants will culminate in full capacity in 2021.  Watch this site for a future story on the one 2019 grant received by an applicant in the Rocky Mountain Synod!
Based on feedback from previous applicants, the national team has been revising the grant application and the webpage to make both more helpful to our ministry partners.
Highlights of the changes:
A new, user-friendly online application that reflects the priorities and values of ELCA World Hunger.
A longer award cycle, allowing ministries to seek funding for three years through one application.
A shorter timeline from application to award decision
A clear list of eligibility criteria and the materials needed before an organization applies
Visit the Domestic Hunger Grants website for 2020 Domestic Hunger Grants deadlines.  DEADLINES ARE FIRM and applicants need to be registered with Grantmaker.
Contact Hunger@ELCA.org if you have any questions or feedback!
Do You Feel the Spirit's Nudge?
On a Sunday last November, Kenna Lawson, our World Hunger Ambassador for the Southeast Colorado Conference, went to First St. Paul's Lutheran Church in Burlington, CO.  She was fortunate enough to be given the sermon time to share the work of ELCA World Hunger.  Roger Karspeck heard her telling about the God's Global Barnyard part of the Good Gifts catalog and what a huge difference an animal makes for a poor family anywhere in the world.  He knew other farmers and ranchers in his congregation could relate first hand to the fact that animals provide milk-meat-eggs for families to eat as well as farm products to sell.
Nudged by the Spirit, Roger talked more with Kenna and then set out to encourage others to donate money to buy some of those barnyard animals for World Hunger.  Before leaving church that day, several members had purchased 3 goats 3 pigs and 2 chickens!  In a difficult year for his beloved Burlington due to plummeting commodity prices and numerous hailstorms, Roger knew that members of his small congregation were not flush with cash.  BUT, several weeks of announcements later, 33 individuals in 21 families donated $2,020 to purchase 2 cows, 14 goats, 7 pigs, 9 sets of chicks, and 1 honey bee hive!  Two of the younger members donated part of the proceeds from the sale of their 4-H animals.  The three flute musicians bought an animal instead of buying each other Christmas gifts.  The Spirit nudged everyone.
  First St. Paul's is challenging other small (and large) congregations to go and do likewise.  What ELCA World Hunger work resonates with your fellow members? Could you raise a similar amount of money…say during Lent this year?  As Roger told Kenna: In our world of plenty, within a world of hunger, thank you for reminding us about what we are called to do.  If you are interested in taking First St. Paul's Challenge, download the flyer under the Documents section of the right column.  Send your email of "registration" to Carol McDivitt.