You are here
Synod Council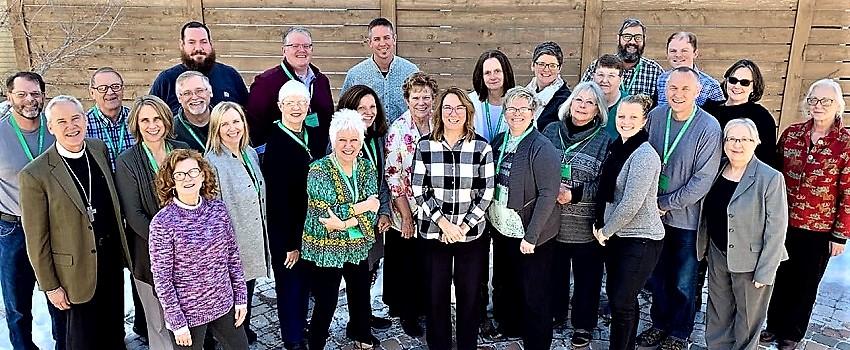 The Synod Council serves as the Rocky Mountain Synod board of directors and as the interim legislative authority between meetings of the Synod Assembly. 
Synod Council Commitment to Serve/Behavioral Covenant 
Rocky Mountain Synod Officers
The Rev. James Gonia - Bishop 2024
Ms. Earline Bohling - Vice President 2021
Ms. Susan Mitchell - Secretary 2023
Mr. Dennis Reynolds - Treasurer 2018
Synod Council
Synod Council Lay
Diana Biggs 2020
Terry Cole 2022
Todd Herreid, 2020
Amelia Decker 2022
Bunga Manarung, 2020
Jay Voth 2020
Debra Frank Dew 2022
Ray Ferry 2022
Jeff Fairfax 2022
Synod Council Clergy
The Rev. Julie Brooks 2020
The Rev. Sara Wirth 2020 
The Rev. Matthew Weber 2022
The Rev. Reba Kiger-Kolasch 2022
The Rev. Dave Palma-Ruwe
The Rev. Terry Schjang
Consultation Committee
Lay
Carlene Goldthwaite (6 year term ending 2020)
Clergy
Committee on Discipline
Lay
Betty Boyd (6 year term ending 2019)
Clergy
The Rev. Scott Jorgenson (6 year term ending 2019)
The Rev. Inga Oyan Longbrake (6 year term ending 2019)
Rocky Mountain Synod Constitution 
*** With the implementation of the Rocky Mountain Synod Strategic Plan, a team from our Synod Council reviewed our Constitution and discovered that Chapter 11: Committees, Boards, and Commissions was in need of significant revision.
An updated Rocky Mountain Synod Constitution was approved by the 2018 Synod Assembly: 2018 RMS Constitution
For Synod Council Members:
Congregational Visit Form