You are here
Sanctuary Church Resources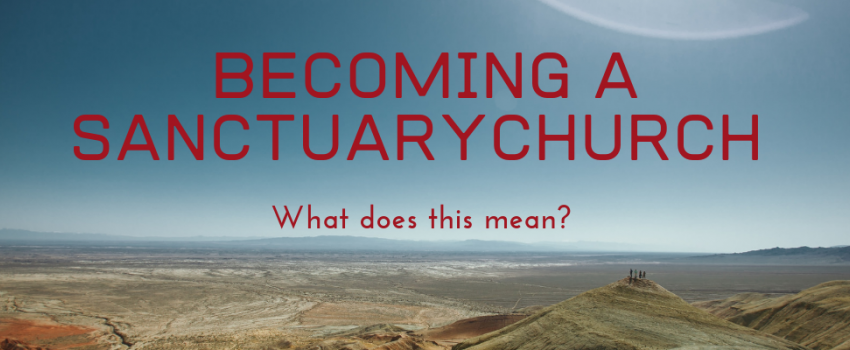 The witness of this church in society flows from its identity as a community that lives from and for the Gospel. Faith is active in love; love calls for justice in the relationships and structures of society. It is in grateful response to God's grace in -2- Jesus Christ that this church carries out its responsibility for the well-being of society and the environment.  
                                          ELCA Social Statement: Church in Society
This page seeks to provide information regarding the 2019 Churchwide Assembly declaring the ELCA to be a sanctuary denomination, as well as provide resources for conversation, learning, and communal discernment. We encourage congregations to begin their discernment using the
1991 Social Statement "Church in Society"
 .  Bishop Gonia recently reflected on actions of the Churchwide Assembly and the
connections to our ELCA Identity
.  This framing of the Assembly's decisions may provide a helpful lens for conversation.
The action of the 2019 Churchwide Assembly is consistent with actions taken at previous churchwide and synod assemblies regarding our ELCA AMMPARO Strategy to accompany migrant minors.  As a border synod, we have already been in engaged in similar work:  offering respite and care for families on the border, being present at immigration hearings, and advocating for legislation for the sake of our migrant neighbors. We as the Rocky Mountain Synod have been publicly advocating for and accompanying refugees and asylum-seekers as part of our witness long before this decision was made by the assembly. It is a part and parcel of our ELCA DNA. We invite you to have conversation in your own contexts about what this means for your faith community. The Office of the Bishop will continue to offer resources and be available for conversation as need.
Rocky Mountain Synod Border and Immigration Ministries: 
Border Servant Corps
Lutheran Family Services Rocky Mountain
RMS AMMPARO Network and Guardian Angels
Cristo Rey, El Paso, TX
Trinity, Las Cruces, NM
Peace, Las Cruces, NM
Documents
Additional Website Resources 
Video Resources
Reflections from Bishop Gonia and the Office of the Bishop