You are here
Ministry Magazine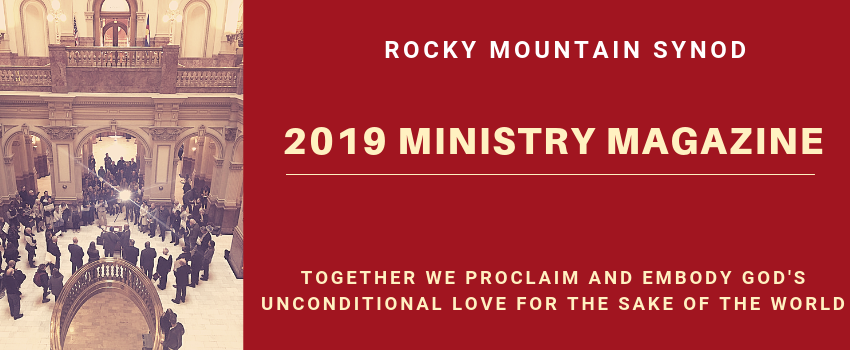 Rocky Mountain Synod Ministry Magazine
The Rocky Mountain Synod Ministry Magazine is published each year for the Synod Assembly to tell the stories of God's love embodied and  lived out in the ministries and organizations across the Rocky Mountain Synod and the entire ELCA. The work of these ministries is made possible because of your mission support, involvement, and commitment to being Christ's Church, Better Together.  Help us tell our stories to your congregation! 
A printed magazine was given to every voting member and visitor at the 2019 Synod Assembly. To order more printed magazines, contact Deacon Erin Power.
* Use this link (https://www.flipsnack.com/rmselca/2019-ministry-magazine-fu30xy03x/full-view.html) for a Digital Magazine version that can be shared through email and social media!
Ministry Magazine Pages
Claiming our Gifts: Faith Formation
Claiming our Gifts: Public Church
Claiming our Gifts: Glocal Church
Claiming our Gifts: Hands-on Service
Claiming our Gifts: Vocation
Claiming our Gifts: Interdependent