You are here
Theological Conference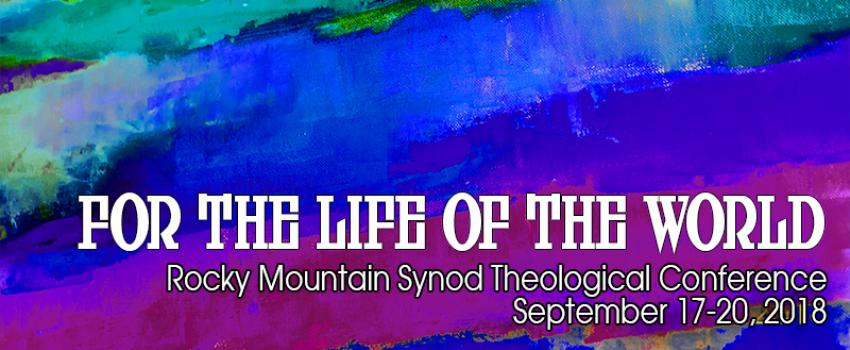 For the Life of the World: Re-framing Our Perspectives
An Invitation from Bishop Jim: 
Colleagues in Christ,
I'm eager to join you on September 17-20 at YMCA of the Rockies in Estes Park as we continue our exploration of what it means to be Christ's Church for the Life of the World. At this gathering we will be sharing stories that reframe our perspectives, not only about ourselves but about the world we are called to engage and serve. Through guests such as Prairie Rose Seminole (Director, ELCA American Indian and Alaska Native Ministries), Pr Albert Ranaivomanana (Director, Betela Seminary), Dr Ray Picket (Rector, PLTS) we'll be invited to let our existing beliefs be challenged – about money and land, culture and society, values and leadership – so that we may discern how the Spirit is re-forming us to be Christ's Body for such a time as this.
With gratitude for each of you and for your participation in our shared life of ministry, I look forward to our time together as we are re-newed and re-visioned in our calling to be Christ's Church For the Life of the World.
Yours in Faith,
Bishop Jim Gonia
Conference Guests
Prairie Rose Seminole
Program Director for American Indian/Alaska Native Ministries, ELCA
Prairie Rose Seminole, Arikara, Northern Cheyenne, is a community activator, writer and sometimes basketball announcer. Her work takes her to faith and interfaith communities across the country, educating and gathering stories from elders and youth to guide work on reconciliation. Much  of her time is reconnecting indigenous worldview through storytelling, exercises and deep dialogues regarding race, religion and deconstructing the Doctrine of Discovery. 
Dr. Ray Pickett
Rector, Pacific Lutheran Theological Seminary
Save the date!
September 17-20 2018
YMCA of the Rockies
Estes Park, CO
Single:$510
Double: $360
Triple: $310
September 2019 (Confirmed)
YMCA of the Rockies
Estes Park, CO
 Single:$500
Double: $350
Triple: $300
September 2020 (Proposed)
​Sante Fe, NM
September 2021 (Proposed)
Little America Hotel
Cheyenne, WY