You are here
Theological Conference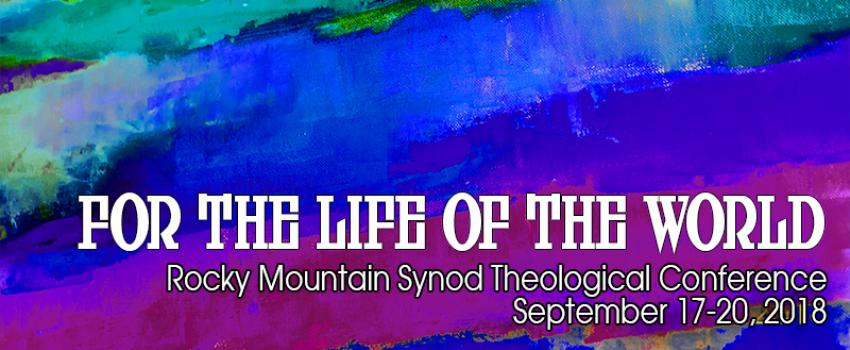 For the Life of the World: Re-framing Our Perspectives
An Invitation from Bishop Jim: 
Colleagues in Christ,
I'm eager to join you on September 17-20 at YMCA of the Rockies in Estes Park as we continue our exploration of what it means to be Christ's Church for the Life of the World. At this gathering we will be sharing stories that reframe our perspectives, not only about ourselves but about the world we are called to engage and serve. Through guests such as Prairie Rose Seminole (Director, ELCA American Indian and Alaska Native Ministries), Pr Albert Ranaivomanana (Director, Betela Seminary), Dr Ray Picket (Rector, PLTS) we'll be invited to let our existing beliefs be challenged – about money and land, culture and society, values and leadership – so that we may discern how the Spirit is re-forming us to be Christ's Body for such a time as this.
With gratitude for each of you and for your participation in our shared life of ministry, I look forward to our time together as we are re-newed and re-visioned in our calling to be Christ's Church For the Life of the World.
Yours in Faith,
Bishop Jim Gonia
---
Conference Guests
Prairie Rose Seminole
Program Director for American Indian/Alaska Native Ministries, ELCA
Prairie Rose Seminole, Arikara, Northern Cheyenne, is a community activator, writer and sometimes basketball announcer. Her work takes her to faith and interfaith communities across the country, educating and gathering stories from elders and youth to guide work on reconciliation. Much  of her time is reconnecting indigenous worldview through storytelling, exercises and deep dialogues regarding race, religion and deconstructing the Doctrine of Discovery. 
Dr. Ray Pickett
Rector, Pacific Lutheran Theological Seminary
Raymond Pickett is a pastor of the Evangelical Lutheran Church in America and has been a professor of New Testament for more than twenty years. He came to PLTS from the Lutheran School of Theology at Chicago, where he was professor of New Testament since 2009. From 1996-2008 he was professor of New Testament at the Lutheran Seminary Program in the Southwest in Austin, Texas where he also served as academic dean, and the Episcopal Seminary of the Southwest. He served as pastor of Peace Lutheran Church in Manhattan, Kansas and as associate pastor of Bethany Lutheran Church in Tulsa, Oklahoma.
Dr. Pickett is deeply committed to forming faithful leaders equipped to mobilize individuals and communities of faith to make a difference in the world by taking risks, collaborating with others, and acting on our faith to make a difference in our communities. He is energized by the challenge of preparing leaders for a diverse, highly secularized West Coast context for a changing Church and complex world and sees it as an opportunity to strengthen the public witness of the church by making theological education more contextual and incorporating practices and strategies for engaging the world.
REGISTRATION DEADLINE IS AUGUST 17
SCHOLARSHIP APPLICATION REQUEST DEADLINE IS JULY 18
September 17-20 2018
YMCA of the Rockies
Estes Park, CO
Single:$510
Double: $360
Triple: $310
Spouse meals and lodging only: $270
OCTOBER 7-10, 2019 (Confirmed)
YMCA of the Rockies
Estes Park, CO
 Single:$500
Double: $350
Triple: $300
September 21-24, 2020
​Sante Fe, NM (Proposed)
September 2021 (Proposed)
Little America Hotel
Cheyenne, WY