You are here
Theological Conference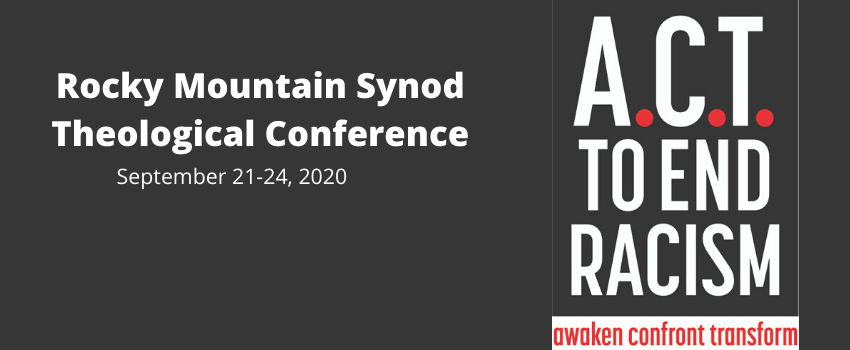 Our fall theological conference this year is being planned and led in partnership with the ACT4RMS Team, the synod's anti-racism team.  The format will be centered around large group digital gatherings, small group conversation (both in-person and via ZOOM), and individual reflection.  Devotions and worship will take place in small groups in person or via ZOOM.
Unless miraculously a vaccine is developed in the next 8 weeks, there will be no in-person large group gathering. You are encouraged to block this week off to fully engage in this space and conversation, despite not being physically away. There will be an option to reserve a room at the intended location (Marriott, Colorado Springs) for folks who wish to get away in retreat. Folks who choose this option can create informal, socially distant gatherings at the hotel, but no formal gatherings will take place. 
Registration and Cost
Please be patient as we navigate these details, and for now simply save the date! As we are currently locked into a contract with the Marriott, we are waiting to see what regulations Colorado has in place in mid-July to determine if we are able to be released from our contract.  If the hotel is able to technically create space in line with the governor's recommendations, we will be locked into our contract, even if we determine it is unsafe to gather that many folks together. This will undoubtedly have financial implications, so we will need to wait until we have more information before being able to set registration costs. The ACT4RMS team and synod council are continuing to brainstorm creative ways to either mitigate these costs or offer the committed space to a local non-profit to offer temporary shelter, and we will need your partnership in navigating these uncertain times.
Future Conference Dates
September 21-24, 2020
Marriott, Colorado Springs, CO 
Single: $590
Double: $430
Commuter: $275
September 2021 (Confirmed)
Little America Hotel
Cheyenne, WY
Single: $660
Double: $465
Commuter: $275